By Douglas Scott

With temperatures inching up, it is time to find your get your kids in the car, grab your backpack and start exploring the wilderness of Grays Harbor County.
While most family hikers tend to head into Olympic National Park or Mount Rainier, Grays Harbor is home to some of the most unique and family-friendly hiking opportunities in state. From rainforests with incredible towering trees, cascading waterfalls and one of the best beachcombing beaches around, hiking in our backyard offers timeless views and incredible locations to hike and explore with your family.
While there are hundreds of opportunities to explore around Grays Harbor, there are five locations that will give you and your family the best and most diverse range of nature.
#1 – Lake Sylvia – ideal for the younger crowd
Lake Sylvia sits just north of Montesano and, aside from those who live near it, is largely forgotten about by those with kids who want to have a short, easy and pretty hike. The trails at Lake Sylvia consist of two loops of two miles each, complete with a fun boardwalk and dense forests.  As the trail weaves through the old forests and shows off the logging history of the region, keep an eye out for birds and beavers, as both are frequently sighted by hikers of all ages.
There is minimal elevation gain, so those with kids should take advantage of the picnic tables and play areas. For those interested in wading or cooling off on a hot summer's day, Lake Sylvia does offer areas to wade and enjoy the water.  Lake Sylvia area is a fantastic day trip for kids from infant – 12-years-old, but may not be able to hold the interests of older, more experienced hiking children. More information on Lake Sylvia can be found here.
#2 – Damon Point – beach walk at Ocean Shores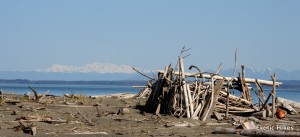 If walking around a lake doesn't interest you, a beach hike in Ocean Shores might do the trick. Damon Point, also known as Point Brown at the southern tip of Ocean Shores offers some of the best beachcombing in the area, as well as impressive views of Mount Rainier, Grays Harbor, the Pacific Ocean and the Olympic Mountains.
With seals, eagles, shorebirds and an occasional whale spotted from the beach, a hike around the entire sandy point becomes a memorable walk along the beach. Bring a bag for shells, sand-dollars and rocks, as this beach is full of collectables for beach enthusiasts of any age. This is hands down the best section of beach for wildlife and beachcombing in the Harbor, and is good for explorers of all ages.
Damon Point is a great place to let older kids explore on their own. Smaller children will love Damon Point, but be prepared for wind, bugs and sand everywhere. More information on hiking Damon Point can be found here.
#3 – Wynoochee Lake – waterfall galore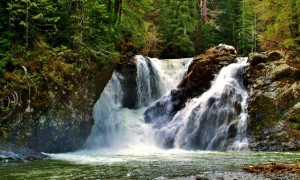 If you are more interested in waterfalls, Grays Harbor's best waterfalls can be found near Wynoochee Lake.  With a gorgeous trifecta of waterfalls along easy to follow and scenic trails, Wynoochee Falls, Maidenhair Falls and Spoon Creek Falls each offer a fantastic place to cool off on a  hot, sunny day.
On a cloudy or rainy day, these family-friendly trails may be a little more muddy, but still reward you with experiencing one of the Olympic Peninsula's best waterfalls. Located above Lake Wynoochee, these falls are quite popular on sunny days, but please remember to be safe around them, as accidents have occurred at these falls every year. The trails are short, mostly easy to follow and great for kids over the age of eight, as the mud and distance from the city may be rough on the littler ones. Find a complete story about visiting the Wynoochee River Valley here.
#4 – Quinault National Recreation Trail System – any distance in any weather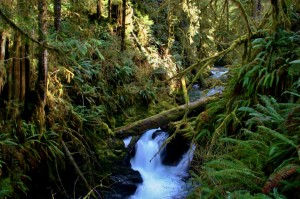 Quite possibly the best family-friendly trail not only in Grays Harbor, but on the Olympic Peninsula, the Quinault National Recreation Trail System gives you rainforest beauty without having to go to Olympic National Park.
Located on the South Shore of Lake Quinault, this National Forest Service operated and maintained trail system is great for rainy, sunny or cloudy days.  A map of the trail system can be found here.
With hikes as short as ½ mile and as long as 8 miles, hiking the Quinault area is not only a great family day trip, but also one of the best hikes in the rainforest, including the Hoh. Home to the world's largest Spruce tree, as well as deep, fern and moss covered canyons, giant cedars and towering firs, the trails around the Lake Quinault National Recreation Trails give you a chance to travel into the timelessness of the Olympic Peninsula.
Young children will love playing on logs, hugging trees and standing in neck deep ferns, while older kids will appreciate the waterfalls, possible elk sightings and a chance to explore on their own. The trails here are well-maintained and well-marked, but can be muddy days after the last rain. For more information on the amazing Quinault Rainforest Trails, visit this site.
#5 – Colonel Bob Peak – a challenge for the older kids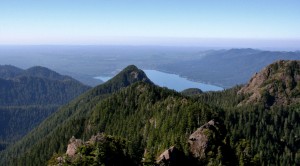 If the rainforest, waterfalls of Wynoochee, Damon Point and Lake Sylvia are too easy for you and your family, why not climb a mountain with them. While Colonel Bob Peak may be difficult for many, the well-marked trail from the Pete's Creek Trailhead off of Donkey Creek Road north of Humptulips is an epic hike for older kids and adults looking for a challenge.
Showing off views of the Quinault Rainforest, the entire Olympic Mountain Range, as well as impressive views of Grays Harbor, Lake Quinault and the Pacific Ocean, sitting atop Colonel Bob is the perfect long day hike for advanced hiking families. At 8 miles long and 3,500 feet in elevation gain, the steps along this trail can seem quite steep to those shorter in stature. For a detailed trip report, please read this link.
These five hikes should offer hikers of any level a great chance to explore Grays Harbor, from a simple trail along a small, historical lake to standing atop a rugged peak overlooking the world; Grays Harbor has some of the best trails around for you and your family. Remember to always be prepared, bring the 10 essentials and tell people where you are going, as even the easiest of hikes can go wrong.  Don't let the wilderness scare you; hiking is a great activity for all ages regarding both mental and physical health.
Next time we have a sunny day, choose one of these trails and experience the beauty of our backyard.
Photo credits: Douglas Scott