By Lisa Shell

If you are lucky enough to own your own blueberry bush, then you know it's time to harvest this year's bounty of plump blueberries before the birds eat them all in one day. In our yard, we have one tree that came with the house and four more that we purchased several years ago at the Grays Harbor County Fair. We should have enough berries to eat fresh and a few for freezing to add to blueberry pancakes on the occasional Saturday morning when the entire family is together. Watching the berries turn from green to blue is as enjoyable as watching spring turn to summer here in Grays Harbor.
If you are not lucky enough to have your own garden, don't despair. Local growers are also beginning to harvest, which means U-pick season 2014 has begun. From now into fall you can find an abundance of fresh blueberries and other produce ripe for the picking across Grays Harbor. Enjoy some of this year's crops at any of the locations listed below.
Blueberries
Shaffner Farms
158 Geissler Road, Montesano
360-249-6722
Join the locals and pick berries during the summer and U-pick pumpkins in the fall. Open July through October 31, this farm is host to thousands of kids every year as they tour the pumpkin patch and choose their very own pumpkin. Offering hayrides and a corn maze, you will find children of all ages laughing and smiling while they enjoy the visit. Blueberries are ripe now and fresh produce is available all summer. Get your favorite recipe ready and take a short drive to Shaffner's Farmstand to fill your buckets.
Black River Blues Blueberry Farm
17132 Moon Road, Rochester
360-273-3489
Make it a tradition because this is a "must do" for U-pick fans. With acres and acres of blueberries, this is the largest blueberry farm I have ever visited. Black River Blues was the first commercial blueberry farm in Washington State. There is plenty of room for the entire family to pick berries.
Coastal Farms U-Pick
19 Robertson School Road, Hoquiam
For the first time, Bob Faires allows us to pick blueberries. Don't delay because this small farm has 9 species of blueberries to choose from and they won't be around for long. You are sure to find the perfect berry for muffins or pancakes at Bob's farm.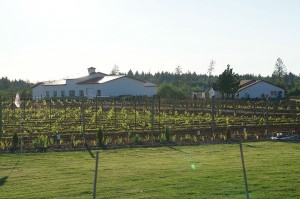 Pumpkins
Chapman Farms Pumpkin Patch & Corn Maze
239 Brady Loop Rd. E., Montesano
360-581-4177
Famous fall festivities await at the Champman Farms Pumpkin Patch and Corn Maze. Make it a tradition and don't miss the chance to pick your very own pumpkin at the pumpkin patch! Available in the fall, U-pick pumpkins of all sizes.
Cranberries
Cranberries Farm Fresh
1367 Udell-Hansen Rd., Grayland
360-267-3944
Fresh cranberries are available between Sept. 25 – Nov. 1 at the farm on the right at the end of the road. This small owner-operated cranberry farm has seven acres of "Stevens" variety cranberries. The berries are dry harvested with a Furford picker.
Lettuce
Voss Acres Produce
1683 Ocean Beach Road, Copalis Crossing
360-591-1287
Located at the historic crossroads to Copalis Beach, Humptulips, Hoquiam, Pacific Beach and Moclips, the market and garden offer a stunning selection of organic farm fresh produce. They are most known for their several varieties of kale and chard that they pick fresh while you walk the paths of the garden. Other items such as carrots, beets, squash, peas, corn, and beans will also be available this season. Owners Sharon and Steve Voss have been working since 2002 to improve this landmark park and roadside market. The structure was originally built in the late 1800's as a "roadhouse" for the Northern Pacific Railway workers. Voss Acres offers produce all year long. Stop by, it's worth the drive.