Submitted by Kelly Hogaboom
Hoquiam's historic 7th Street Theatre will be home to the 1987 independent film Miami Connection this Friday, September 5. This event, complete with raffles, prizes, and local vendors, will benefit Harbor Rescue, a registered non-profit that helps abandoned, mistreated, and rescue dogs throughout Grays Harbor.
The doors open at 7:00 p.m. to a 10 to 15 minute slideshow on a few of Harbor Rescue's successes. Tickets prices are $5 in advance, and $7 at the door. All proceeds go to Harbor Rescue, a registered non-profit helmed by Deb Thomas-Blake and her team of passionate volunteers.
"[My husband] Ralph and I – and a handful of very special friends – have worked hard to put this amazing film on the screen," says Kelly Hogaboom, the principal organizer for the event.
"We want filmgoers to have a good time at a great price, and to help our local animal population as well. I love what Deb Thomas-Blake does with Harbor Rescue. She makes every dollar count, and she works around the clock – literally – for neglected, abandoned, suffering, and lost dogs."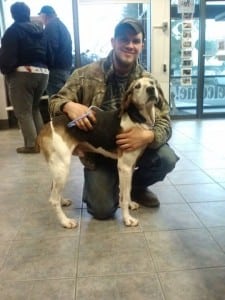 Miami Connection is making something of a name for itself in recent years, playing to laughter, cheers and applause at film festivals and in college towns throughout the country. Reviewers have consistently cited the passion and sincerity of the film, along with the 1980s setting and original score. "Hilarious yet oddly touching, goofy, yet totally sincere – this is one of the most entertainingly bizarre movies I've ever seen!" – Matt Singer, Screencrush.com.
Harbor Rescue is a non-profit volunteer rescue group dedicated to assist with lost and found animals, foster and rehome animals, provide those in need with medical care, and spay/neuter rescued, abandoned and street animals. All proceeds from the film will benefit Harbor Rescue directly.
Tickets are available at City Drug in Aberdeen, Harbor Drug in Hoquiam, and through Brown Paper Tickets or BmovieBFFs.com online.
For more information about Harbor Rescue, visit the non-profit organization on their website or Facebook page.