By Gail Wood

Before Carl Lovgren became infatuated with running, before he'd run 60 miles nonstop, before he'd run four 50K races and a marathon in one month, he'd have to make one slight adjustment. He'd have to want to run.
If you listen to Lovgren talk about running today, you'd think he's always been a mile burner, someone who has always been a running enthusiast. Nothing could be further from the truth.
Back when he was attending the police academy in 2002, he ran 10 miles – the farthest he had ever run by far up to that point. At the finish, he made one startling discovery.
"I vowed I'd never do it again," said Lovgren, who lives in Aberdeen.
Now, even Lovgren can't believe his transformation, going from basically an anti-jogger to a running nut. His life-changing metamorphosis began with a realization – he was getting older. And a friend's invitation got him moving on this unexpected journey with running. When Lovgren heard Charity Lisherness was going to run a 50K race in Oregon a couple of years ago, he heard an unexpected voice inside his head. He wanted to run it, too.
"For whatever reason, I decided I needed to do that race," Lovgren said, chuckling at the memory. "I don't know why I wanted to do it, but I did."
So, with the support of his wife and some new-found running buddies, Lovgren bought some running shoes and – gasp – began running. And he hasn't stopped.
"Some people think I'm pretty crazy, but it's not as crazy as it seems," Lovgren said.
In August, Lovgren ran in a 12-hour run in Olympia, which is sponsored by the Guerilla Running Racing Club. He won the event by running 61 miles, averaging about five miles an hour, circling Capitol Lake. It's the farthest he has ever run and it was seven miles farther than anyone else ran in that event.
A 1983 graduate from Aberdeen High School, Lovgren has always been an athlete, turning out for sports. He still holds a school record in diving. He also played ice hockey and volleyball and always stayed active. But back in those days, a long run for Lovgren was three miles. Then two years ago, approaching his 47th birthday, Lovgren began upping his running routine, going from a couple of miles on a training run to 15. It was his counterpunch to age and a ticking clock, not to mention a growing stomach.
"He was just overweight and he decided to start running," said Brian McGregor, a longtime friend of Lovgren's and director of the Grays Harbor Running Club. "Carl dragged people along with him. He got other people to get out and run."
Since January, Lovgren's weight has dropped from 206 to 170. The weight loss did more than lower his blood pressure. It helped quiet some painful shin splints.  In the last couple of years, Lovgren had to drop out of a couple of 50K races because of throbbing shins. But a change in running shoes, adding weight lifting and reducing his weight made his aching shin splints yesterday's painful memory. Typically, the reaction to such pain is to quit. But Lovgren fought through that.
"I almost hung it up a couple of times," Lovgren said.
But, to his credit, he stuck it out. This May, Lovgren's goal is to run 100 miles in less than 24 hours.
"The thought of running 100 miles used to scare me," Lovgren said. "After doing 60 miles, it doesn't scare me."
People's reaction to Lovgren's accomplishments in sneakers are mixed, ranging from admiration to a lifted eyebrow.
"A lot of people think I'm crazy," he said.
But not Elkie, Lovgren's wife and sometimes running partner.
"It's incredible to be able to watch and to support him," Elkie said. "He's leaps and bounds more healthy than what he was when he started this."
Surprisingly, running for Lovgren has become his getaway, his solution and rescue to a tough day at the office.
"I always call it my zen time," Lovgren said. "I go outside. All the world's problems are solved by the time I get back, whether that's reality or not. I always feel better when I get back. A lot of it is stress management, too. Running helps with that."
Like many people looking for a solution to weight gain, Lovgren made running a goal. But he went beyond wishing it would happen to making it happen. His resolve in sneakers has even surprised his wife.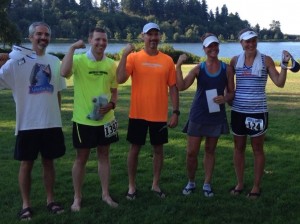 "He has achieved his goals tenfold," Elkie said "Running 100 miles, I never dreamed he'd have that as a goal."
There's a key to Lovgren's success.
"He doesn't let anything get him down," Elkie said. "He just keeps going."
Lovgren felt uncomfortable with the spotlight being put on his accomplishments as a runner. He pointed to people he said are faster. Running buddies like Amy Iverson, Angela Wilder, Rachael Gaidrich and Jack Broadhed.
"They're much more accomplished than me," Lovgren said.
But there's an inspirational part to Lovgren's journey. There are a lot of runners who tie up their shoes and do a 10K. There are even some doing marathons. But 50Ks and 100 milers? That's when the crowd thins out. And that's what makes Lovgren's accomplishments so impressive.