By Lisa Shell

You may know Michele Keller Bell as a certified personal trainer at the Timber Gym.  Michele and her team also exercise consistently, sculpt  muscles, and compete onstage in body building contests. Michele trains herself and others daily at the Timber Gym — a place where strength, weight control, confidence, health maintenance, and passion are a way of life. In fact, Michele, Tracy Andersen, and a few other Timber Gym girls are finishing up a rigorous, 14-week training program in preparation for their next competition – Jon Lindsay's NPC Atlantis Qualifier which will be held in Las Vegas, Nevada, on May 9.
Michele started training because she and a coworker had made a bet. She worked hard and entered a show. After, two coworkers at Safeway had to let her train them. These two friends both lost weight, gained muscle, and became walking advertisements for her personal training skills. Michele said, "In the beginning, I trained myself and others out of my house."
Today, Michele co-owns the Timber Gym with her husband, Don Bell, a chiropractor and champion powerlifter. From walking the lap pool to powerlifting, there is a way for everyone to increase their strength at the Timber Gym.
Tracy Andersen worked out at the gym for years, and became great friends with Michele. One day, Michele challenged Tracy to train for a show. Never one to take a challenge lightly, Tracy ultimately competed on stage for three years at different bodybuilding contests. "I love the body sculpting part of it," said Tracy with a smile. "I love to make my body look a certain way.  You have to put it in your mind and then make it happen and look in the mirror and see it."
How do you start body building? The best advice – make a plan, get support, set goals, and start.
On May 9, Michele and Tracy will compete separately in two different categories. Michele shares, "Tracy does Physique, where it's a bit more muscle. She is 'buffing up.' She competes on the stage, flexes her muscles, and does a barefoot routine pose to a song like 'Roar.'"  Michele will be competing in the Figure category.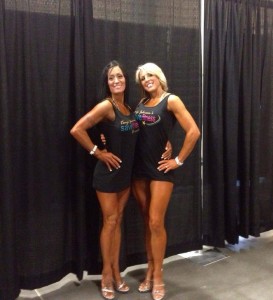 It's tough out on the stage because, as Michele puts it, "You are being judged against other people. That's why we work so hard, and we diet down for 14 weeks prior to the show."
Fourteen weeks is a long time to go lean on carbohydrates. Each person's need is different and, after years of being a certified personal trainer, Michele's expertise comes in handy when designing the diets for her members. Prior to the competition, they determine the diet needed to optimally sculpt their muscles. Three days prior to a show, they de-carb. Then, the morning of the show, they load up on carbs.
Bell says, "I love to help people reach their goals. Everybody has different goals."
Tracy had to figure out a meal plan during the 14-week diet down period. She ate healthy, but did have to analyze how to "scrape away" the fat to see the muscles. Tracy rewards herself after a show with food she loves – blue cheese and wine.
Once the show is over, Tracy orders a salad, topped with her favorite Lighthouse Blue Cheese dressing. Or, as she said, "I have a glass of wine, maybe a burger, and a little lettuce with my blue cheese."
When Michele retires from Safeway in about five years, she will keep competing in body building contests. Her goal is to get a Masters Pro one time, which means she will have to win a national show and accumulate points in her 50s. It might take a few more years–it's hard work, but that's her goal.
The Timber Gym is located at 500 E Market Street in Aberdeen. Call 360-532-8339 for more information or follow them on Facebook.