By Douglas Scott

Finding the perfect gift for mom can be tough. While you could go with traditional gifts like chocolate, flowers, a card or even something homemade, sometimes the best gift is spending quality time with the woman who raised you. In Grays Harbor, we have a myriad of wilderness areas waiting to be explored, just a few miles from home. Instead of spending money on something that will be consumed or slowly wilt away, why not spend the day with mom out in the natural beauty of our neck of the woods?
From easy hikes to difficult all day treks in the wilderness of the Olympic Peninsula, spending a day in nature with your mother is a great way to spend time and show love to the woman who raised you. Hiking or exploring wilderness areas connects you both to wilderness, nature and each other, forming a new bond over a great experience on our most-beautiful lands. Finding the right Mother's Day gift can be hard, but these five hikes and destinations will be sure to not only bring a smile to your mom's face, but also help reconnect the bond you share with her.
The Maple Glade Trail
Located in the Quinault Rainforest, the half mile in length trail is perfect for a leisurely stroll with mom through moss-covered maples. Short and flat, this hike leaves the Quinault Rainforest Ranger Station and weaves its way through an incredible forest, before arriving at the historical Kestner Homestead. With history, natural beauty and the chance to see an elk herd, take some time to walk this trail will not just help you connect with nature, but with your mother as well. For an added bonus, take the Quinault Loop Drive and see waterfalls, great river views, tall trees and the gorgeous Lake Quinault Lodge.
Kalaloch and Ruby Beach
Nothing is as soothing and relaxing as the steady sounds of waves crashing on the shore, and the beaches at Ruby Beach and Kalaloch are some of the best and most accessible in the region. With tide pools to explore, beaches to walk and look for agates, shells and other cool beach combing finds, taking a walk along the shore with mom will be a cherished memory for everyone. As eagles circle overhead and whales swim near the shore, a day at the beach is perfect for reconnecting with the woman who raised you. After your hike, have dinner overlooking the ocean during sunset at the Kalaloch Lodge.
Lake Sylvia State Park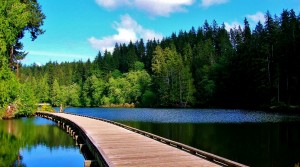 Located just a few miles north of Montesano, Lake Sylvia is a close, fun destination for mothers of all ages and abilities. Home to five miles of hiking trails, including a half mile-ADA friendly path, exploring the trails around Lake Sylvia is fantastic. This old logging camp is now the site of incredible camping, fun trails and a chance to see birds, beavers and occasional deer. Those who are looking for a unique experience are encouraged to kayak and canoe in the waters, or take a hike around the lake through mature trees and tranquil lake views. Stop by the Beehive Restaurant in Montesano for a slice of delicious pie after hiking and exploring the region.
Grays Harbor Wildlife Refuge
Often overlooked since it is in our backyard, Grays Harbor Wildlife Refuge in Hoquiam is a fantastic place to spend a few hours with mom. With hundreds of thousands of shorebirds migrating through during the month of May, walking the Sandpiper Trail a few hours before high tide on Mother's Day is sure to be a memorable experience. With peregrine falcons and eagles soaring overhead, watch as the sandpipers fly around together in a dazzling and impressive display. Birding with mom is an activity that you can do anywhere, and there is no better place and time than Mother's Day at the refuge to start a new family tradition.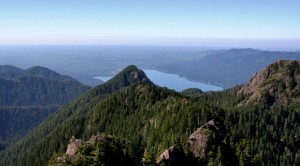 Colonel Bob Peak
This hike is for the moms who are tough, love hiking and are looking for a serious adventure in the wilderness of the Olympic Peninsula. Considered one of the classic hikes in Grays Harbor, Colonel Bob Peak is eight miles in length and gains 3,300 feet in elevation before ending up on a rocky, wide summit overlooking the entire Olympic Peninsula. At 4510 feet in height, Colonel Bob sits on top of the Quinault Rainforest, offering stunning views of Lake Quinault, Grays Harbor, and even Mount Olympus. With wildflowers starting to bloom in the lower elevations on the trail, this trail is a perfect way to bond with mom in one of the most gorgeous hikes in the Pacific Northwest.