Submitted by Grays Harbor Historical Seaport Authority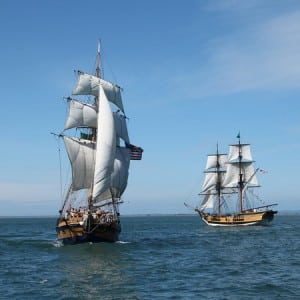 Grays Harbor's tall ship and the official ship of Washington State, and her companion ship Hawaiian Chieftain have set a return to their home port in Aberdeen for June 17 at Seaport Landing. Lady Washington has scheduled several public events and opportunities for families, fantasy pirates, and young people. Highlights of her activities include:
Longboat Battle Sail
On Sunday, June 21, the 112-foot Lady Washington will be "attacked" by the 26-foot wooden longboat Captain Matt Peasley at Seaport Landing in south Aberdeen. The longboat, one of two in the Historical Seaport fleet, will be fitted with a small cannon and it will meet Lady Washington for a "David-and-Goliath" duel on the Chehalis River. Tickets are $75 adults, $67 students/seniors/active military, and $39 children 12/under. The action starts at 3:00 p.m.
Appearance at Rusty Scuppers Pirate Daze
Lady Washington will welcome visitors and guests on sailing excursions during Westport's annual Rusty Scuppers Pirate Daze festival June 26 – 28. The ship will open for walk-on tours June 26, 4:00 p.m to 5:00 p.m., and June 28, 10:00 a.m. to 1:00 p.m. Excursions are scheduled for 6:00 p.m., June 26, 3:00 p.m. June 27, and 2:00 p.m. June 28.
Sail-a-bration and SPLASH Fireworks
The Seaport Landing pier will open to the public on the evening of Saturday, July 4 to view the annual Aberdeen SPLASH Fireworks display over the Chehalis River. Parking is available on site. A $5 donation per car is appreciated. The main gate to Seaport Landing, 500 N. Custer St., Aberdeen, will open at noon for tours of Lady Washington and Hawaiian Chieftain. At 9:00 p.m., Lady Washington will take guests sailing on the Chehalis River to view the fireworks. Tickets are $75 adults, $67 students/seniors/active military, and $39 children 12/under. On Friday, July 3, both ships will open 1:00 p.m. to 4:00 p.m. for tours, followed by an Evening Sail on Lady Washington at 6:00 p.m.
For a complete schedule of public activities, visit www.historicalseaport.org. Tickets are available online or by calling 800-200-5239. Early reservations are strongly recommended.
During June, Hawaiian Chieftain will be closed to the public while maintenance projects are completed. The ship is expected to be available for visits during the SPLASH celebration.