By Chelsea Royer
In 1993, what is now the Summit Pacific Medical Center (SPMC) received an anonymous donation with the request that the hospital begin a scholarship fund. This request triggered a response in the hospital employees, who decided to contribute their own dollars to the fund. In 1994, they awarded their first two scholarships of $500 each. The next year, employees raised enough to offer two $1,000 scholarships. Today, the employees are still giving away a portion of their paychecks every month and have raised more than $45,000 in the last 11 years.
These scholarships are open to Elma High School, Montesano High School and Olympic Christian Academy students who are hoping to enter the medical field – whether it be a direct route through nursing school, or indirectly through medical transcription. Applicants are judged against a scoring sheet, with the most points allotted to the essay assignment.
Joy Iversen, SPMC's Diagnostic Imaging Manager, is also the Scholarship Manager. Regarding the Summit Pacific Employee Scholarship Fund, Iversen says, "The young people who submit applications for this scholarship are impressive and the quality of their applications and essays have just skyrocketed in the last few years. When attending award ceremonies, it is exciting to see the young people receive their scholarships and also to see the people in the community who donate to and invest in the schools and students."
As time went on, another scholarship was added to the program in the form of the Mitchell Cohen Memorial Scholarship. SPMC's Dr. Shawn Andrews knew and worked with Dr. Cohen who died unexpectedly while training for a marathon. Shortly after Dr. Cohen passed away, low cost sports physicals for high school students became a scholarship fundraising event. Employees of Summit Pacific, like Dr. Andrews, volunteer their skills to get dozens of kids through their required physicals and approved for activities. Other community members from Elma Physical Therapy and the Elma School District also volunteer their time. Dr. Andrews explains, "Everyone is here volunteering for a different reason, but most are here because they knew Dr. Cohen."
The Mitchell Cohen Memorial Scholarship is not restricted to those entering the medical field. Instead, Dr. Andrews, who reviews applications, looks at the student's academic trajectory and willingness to grow and progress over their grade point average.
This year, Connor Custis, an Elma High School student, achieved both scholarships. Joy Iversen is especially excited about this applicant and his promising future. "Connor's realm of study is a little outside of what we typically award. He wants to get a bachelors degree in Mechanical Engineering and then a Masters in Biomedical Engineering. He dreams of inventing and developing prosthetics," says Iversen. "I think he is an exciting person, the type who could potentially change the future. He has a lot of vision and is going into a field where I see him accomplishing great things."
In Connor's own words, he explains that, "I would want to have made a difference, to know that I invented something or built something that would change someone's life for the better…As long as I make someone's life better, I would consider my life successful."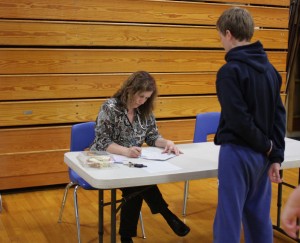 Iversen adds, "Over the years, some of the applicants stand out from the rest and Connor is one I will always remember. I'm excited to watch and see what he accomplishes in the future."
This year, a third and temporary scholarship fund has been added in memory of Dr. Edward Macke's wife, Jennifer. This scholarship, created by employees of SPMC as well as community members, was given to a student interested in pediatric medicine. As Jennifer worked as a teacher, it seemed fitting the person being supported in her memory should desire to work with children.
This year, the hospital was able to give a total of $5,400 in scholarships to local high school seniors. The scholarship funds are a beautiful way the employees of SPMC invest in the future of their youths and community.
Iversen says that she would love to see more young people apply. Though the scholarships for 2015 have already been granted, this year's junior students of qualifying school districts can visit the web page for more information on how to apply for the scholarships next year.