Submitted by Timberland Regional Library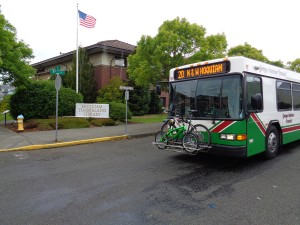 Right now, people in Grays Harbor County have only three places they can buy a bus pass. On November 2, this will change as the Timberland Regional Library (TRL) and Grays Harbor Transit will begin a partnership that will enable bus riders to also purchase bus passes from any of the eight Grays Harbor Timberland libraries, with no additional fees.
Timberland Library Director Cheryl Heywood said, "This is a very unique partnership, possibly in the nation, created to bring more convenient options in assisting county residents in purchasing bus passes. It's one more helpful service from your local public library."
Ken Mehin, General Manager of Grays Harbor Transit mentioned, "Libraries are among the busiest public buildings across our county. By joining with TRL in this effort, we expect to better serve our communities' needs by offering greater choice."
For questions about bus service, schedules and fares, contact Grays Harbor Transit at
360-532-2770 (option 2 or 3), or visit www.ghtransit.com.