Living naturally, respecting the environment and utilizing the earth's resources is more than just a business venture for Laurie and Christian Kazimir; it's a way of life. The Kazimirs opened their store, Ocean Shores Soapworks, in 2013. "We were excited about bringing a local handcrafted, all-natural soap line to the area," stated Laurie. "We value the world we live in and want to give people a natural alternative to harsh detergents and chemicals in commercial products."
Creating a Natural, Eco-Friendly Store –Inside & Out
When the Kazimirs had the opportunity to purchase the Ocean Shores Development building, they jumped at the chance to utilize this facility to launch their new soap business. Since the couple also owns an eco-friendly construction company, they completely renovated the building, which had been in a "state of disrepair for years."
"We were conscious to use eco-friendly methods and materials in our project," Kazimir commented. "We kept as much of the original timber as possible. We had to replace the decking on the second floor due to safety concerns, but all of that material was reclaimed and utilized for furniture and display shelves. We also utilized paperstone countertops, which are manufactured in Aberdeen and are made from recycled paper and cashew nut resin."
Providing Natural Alternatives for Health and Healing
Due to the passion and dedication of Christian and Laurie Kazimir, Ocean Shores Soapworks has experienced great success. "Our love for living naturally and organically led us to the soap store," Kazimir commented. "We are happy to offer superior spa and beauty options, made locally, created naturally to those who live here or visiting Ocean Shores." The store features a large inventory of soaps, facial products and items for skin and foot care.
"We also celebrate our locale by selling complementary products that are related to nature and the ocean," Kazimir noted. This includes jewelry, stationary, gifts and household items that are created by local crafters or those connected to the area.
"All of our spa line is handcrafted on the Olympic Peninsula – either on site or in a local workshop," Kazimir said. "That includes all of our soaps, body butters, bath bombs, sugar scrubs, lip balms, beeswax candles, room and body mists and complexion line." The store currently carries 20 spa products and 100 soap varieties, including lavender and floral scents. Masculine scents of beer, whiskey and rum are also available. During the holidays, the store features peppermint and pumpkin spice soaps. For those who are die-hard Seahawks fans, there are soaps created with Seahawks colors. "The base of our soap line is made with natural vegetable oils, and to that are added essential oils, goat milk, beer & spirits, botanicals, minerals and fragrance depending on the soap selected," Kazimir explained.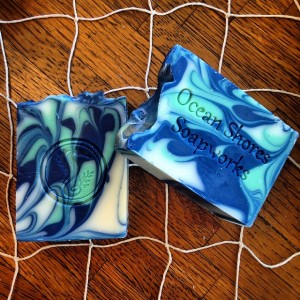 While the majority of their business is local, the Kazimirs ship their products domestically and internationally via their website. The website is also a great venue for out-of-town visitors to continue purchasing products from Ocean Shores Soapworks even after returning home. The Kazimirs hope their store will help make Ocean Shores an unforgettable experience for tourists. "We love the local area and wanted to provide a product that would enrich the lives of others and be a wonderful gift to take home," Kazimir noted.
Dedicated to Ocean Shores
Since relocating to Ocean Shores from New Jersey 15 years ago, Christian and Laurie have poured their lives into this beach town. The couple started as real estate agents. Their passion for green living led to the launch of their own construction company, Christian Kazimir Construction Company LLC. Through this business, the Kazimirs are dedicated to helping people build their dream home on the beach, with an emphasis on eco-friendly solutions and design. They also manage vacation rentals, and continue to sell local real estate at Laurie and Christian Real Estate.
"We love living by the beach and having nature surround us, there's no other place like it," Kazimir said. "We built our home here, we built our life here, and we continue to help Ocean Shores grow by providing healthier lifestyle options, employing dedicated staff and nurturing their growth, as well as helping others buy a home in the area."
Indulge in Nature
If you are looking for some healthy, all-natural solutions for your friends or family, stop by Ocean Shores Soapworks for some great merchandise "Our knowledgeable staff can help you find the best product to suit your needs," Kazimir said encouragingly.
The store's products have truly benefited the community. One customer explains that even after seeing numerous doctors, her seven-year old daughter's feet were "dry and cracked and bloody from time to time." This condition took a huge physical and emotional toll on the little girl, until her mother picked up some products from Ocean Shores Soapworks. Excited beyond measure the mother shared that "we used your product one time and immediately saw great results. They get better each time we put it on. Thank you so much!"
You can find Ocean Shores Soapworks online or at 710 Point Brown Avenue NW in Ocean Shores.