Today's ATVers aren't what they used to be. Gone is the image of the helmeted, mud-splattered teenager tearing through the off-road landscape. "It's not about going out in the woods and tearing up the trails," says JoAnn Haynie of the Grays Harbor ATVers. "We've never been people to go out and tear up the woods. We want to be responsible being outside, exploring and sightseeing and enjoying the outdoors with care."
Montesano residents for over 50 years, Larry and JoAnn Haynie say Grays Harbor ATVers is an informal club with a common goal: enjoying the great outdoors and riding responsibly on All-Terrain-Vehicles.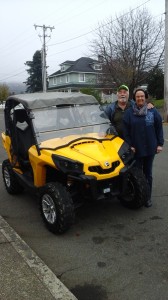 "I like to get out in the open and putt along," says JoAnn. "We love taking them (ATVs) out for a short little run around town. I drive in nice weather to the grocery store and do errands around town. Larry goes fishing. We like to take them out on the back roads and go on picnics, that sort of thing. They run on gas. They're much more economical than a car."
This may be one reason why ATV ownership has seen explosive growth in recent years, particularly among retirees. "Our age group has a little bit more money than what our parents did," says JoAnn. "It's easier to explore on an ATV than hiking. If we didn't have the ability to go off-road on an ATV, we wouldn't be out there."
The Haynies are on their third ATV, a "side-by-side" CanAm Utility with a windshield and a steering wheel. Most rigs run about $10,000 – $20,000, depending on features. "You can make it be whatever you want it to be," says JoAnn of ATV ownership. "This is our first side-by-side. Other types you straddle and steer with handle bars like a bike. We call those quads."
According to JoAnn, ATVs can be ridden off-road and on trails as well as on city or county roads as long as they're licensed and meet certain requirements set by the state legislature. "When we got ours, we already had an off-road tag. Then we had to buy a license to ride on city streets. You also have to buy a tag to go on the license plate every year. Ours has a windshield. If you don't have that, you have to wear eye protection and a helmet," explains JoAnn. ATV riders must also have lights and signals on their vehicles when driving after dark.
The Haynies started ATVing about ten years ago in Okanogan, where they own property. Since then, Larry and JoAnn Haynies have expanded their love of ATVing by lobbying and educating the cities of Montesano and Westport about ATV riding. Westport passed an ordinance allowing licensed Washington ATVs on city streets within city limits. The cities of McCleary, Montesano, and Elma have passed similarly ordinances, according to JoAnn.
They're also raising their profile locally. Haynie says four Grays Harbor ATVers rode in Montesano's Festival of Lights Parade last December. It was their first appearance in the annual event and they hope to return.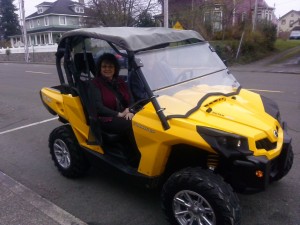 And if you think Grays Harbor's soggy weather precludes ATV riding, think again. Says JoAnn, "You can buy an ATV with a top or all-enclosed like a car, which makes it impervious to the elements."
Human "elements" in Grays Harbor include a loose coalition of like-minded riders that make up the Grays Harbor ATVers. There's no formal membership, but the group meets regularly. Grays Harbor County Commissioner Vickie Raines attended the group's gathering January at the Bee Hive in Montesano. Raines "spearheaded" the effort to open more county roads to ATVs, with support from Commissioner Wes Cormier.
JoAnn emphasizes, "You have to know what the areas (for riding) are. Pacific County has an actual ATV club, as does Tacoma." But the Haynies are taking the show "on the road" right here in Grays Harbor. "We're linking up with more and more people who have them and ride, especially since Montesano allowed us to ride in town," says JoAnn.
Best local sites for ATVing, says Haynie, include Lake Sylvia in Montesano, Capitol Forest and Straddleline ORV Park.
The Haynies would like to see greater access to more riding places. Says JoAnn, "We'd like to see the county open all roads that are 35 mph or less."
While they're waiting, the Haynies are going full-speed into enjoying their off-road passion that includes connecting with fellow ATVers. "Once you get acquainted with more people, they have more ideas and possibilities for use."
For more information on Grays Harbor ATVers, contact Larry or JoAnn Haynie at: 360.249.0512 or by email at: haynielarryjoann@yahoo.com. The group does not have a website or social media at present. Those are in the works. For general information on ATVs, visit Washington ATV Association.