The Grays Harbor Mounted Posse is finalizing their preparation for the annual indoor professional rodeo show at the Grays Harbor County Fairgrounds March 25 through March 27, 2016.
Professional rodeo cowboys and cowgirls will vie for prizes in such classic rodeo events as bareback riding, steer wrestling, team roping, saddle bronco, tie-down roping, barrel racing and, the always anticipated, bull riding competition. Over the three day show, the public can visit various vendors and food booths. And a dance party, complete with live music, is also scheduled for Saturday night.
The Grays Harbor Mounted Posse is a non-profit organization whose volunteers come together raising funds for high school student scholarships, food banks, 4H clubs, and many other deserving recipients throughout Grays Harbor and the surrounding area.
The posse, claiming a 67 year history of generosity, currently has 25 members, 17 active and eight lifetime members with 25 or more years of volunteer service. The organization is affiliated with the Northwest Professional Rodeo Association (NPRA) and the Washington State Posse Association.
The contestants in the up and coming rodeo are from all over the Northwest and Canada. This is the posse's 23rd NPRA sanctioned award winning rodeo and the first rodeo of the year's schedule, according to member Marv Cole.
Cole serves as the posse's Treasurer and is an example of the people who dedicate their time and energy to this good cause. After moving his family to the Elma area in 1994, he got involved with the posse after attending a penning event at the fairgrounds, sponsored by the Grays Harbor Mounted Posse. Cole discovered then the group was a community oriented, non-profit organization benefiting the youth of Grays Harbor.
"My family just moved to the area," he states. "We were horse people and I thought this would be a way to meet new people and get involved in the community. That was 21 years ago and I am still very much involved with the posse and their events."
Similarly, Jake Yancey the posse's Captain has been a member over the past 15 years. "I've always been active with the equine world riding horse, working on cattle ranches and operations," he said. So when a good friend, who was a posse member back then and still is, told him of its non-profit status, he joined. This was a natural fit for Yancey who is a ferrier by trade.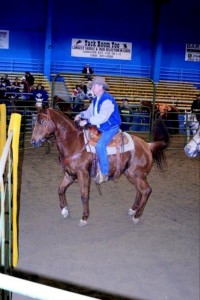 The gates will open to the public on Friday and Saturday at 7:00 p.m. and Sunday at 2:00 p.m.
Tickets for the Grays Harbor Mounted Indoor Pro Rodeo are $10 for adults, $7 for children ages 6 to12 with 5 and under admitted free. Friday or Sunday family packages are available for $25.
The Grays Harbor County Fairgrounds is located at 32 Elma McCleary Road in Elma.