One of the major benefits to living in Grays Harbor is the proximity to so much natural beauty. The area is a gateway to miles of exquisite beaches, majestic forests, and the awe-inspiring Olympic Mountains. Nature surrounds Grays Harbor, beckoning hopeful explorers. But sometimes exploring the wilderness with small children and knowing just where to go can be a bit daunting.
In particular, the Olympics can be difficult to access. In general, those seeking mountain adventures must hike for several miles to penetrate them. One easier way to admire the mountain scenery with younger nature lovers in tow is at Wynoochee Dam and Lake.
Located at the mouth of the Olympic Mountains, Wynoochee Lake is a hidden gem. The dam and day use area make a perfect destination for families looking for a day trip. The dam is a little over one hour's drive from Aberdeen. There are no commercial services in the vicinity, so it is best to pack and plan accordingly. Cell phone coverage can be spotty, and although a pay phone is available, be sure to prepare for that as well.
There are picnic tables, covered areas, a partially paved trail along the lake, and heated restrooms, which are a real treat on cooler days.
The lakeshore itself is a great place to explore and play. The Olympics encircle the lake, offering a beautiful view and mountain backdrop. Next to the day use area is a viewing vista for the dam. The river gorge is a spectacular sight from this vantage point.
Informational signs tell about the dam and its history. This also serves as the starting point for the 16-mile Wynoochee Lakeshore Trail, which is open for hiking and mountain biking. Those with young children may want to explore just a small portion of this trail. Nearby Spoon Creek Falls is another trail worth visiting. The trail to the falls is out and back, downhill on the way in, and is 0.3 miles long.
On warmer days, the lake is also a great place to swim. Some areas are shallow enough for wading. Keep in mind that there are no lifeguards on duty. There is a boat launch available for those interested in going onto the lake, or even fishing. Dogs are also welcome on a leash.
Summers are also the time to plan camping trips to Wynoochee Lake. The Coho Campground is seasonally available for tent and RV camping. For a unique camping experience, there are also yurts available which overlook the lake. The yurts are heated, furnished, and suitable for up to six people, though bedding is not provided. There is a group site available for larger groups or even those looking for a scout trip. Beginning in Coho Campground's Loop B is the Working Forest Nature Trail. It is an excellent accessible interpretive trail for all ages at only a half-mile long.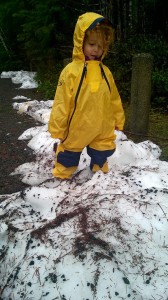 Wynoochee Lake can be reached from Highway 12 just west of Montesano by heading north on Wynoochee Valley Road/Forest Road 22. Follow Wynoochee Valley Road for 35 miles. Turn left to remain on Forest Road 22, and after around one mile, turn right at Forest Road 2294. Entrances to the Coho Campground and the Dam are along this road.
Please check the Olympic National Forest website for detailed directions and maps, and all information needed before visiting (trail conditions, road closures, etc). Camping reservations can be made online. State licenses are required for fishing and hunting. Details can be found through the Washington Department of Fish & Wildlife.