Would you rather close out your high school days by winning a state championship or being named valedictorian?
Ryan Anderson didn't have to decide. The recent Wishkah Valley graduate capped her high school days in a big way by accomplishing both remarkable feats over a quick two-week span.

In addition to topping her class with a 3.94 grade point average, she also captured the Class 1B state championship in the javelin with a school-record throw of 128 feet, 6 inches.
Not a bad way to kick off the summer.
The state championship came during a track season which saw Ryan best her benchmark every time she seemingly competed at a meet.
Her previous personal record throw of 105-6, set at a Pacific League meet against Raymond during her junior year, was quickly surpassed at the start of her senior campaign.
The record didn't stand for long as two weeks later she bettered the mark. Three days after that she did it once again.
A mere 10 days later, that distance fell.
"It seemed she just kept setting new PRs (personal records) every time she was out there," Ryan's mom, Gayle, said. "I think the only times she didn't take first (place) were at two invites."
And those were at invites where she competed against athletes from much larger schools, including those in the 4A and 3A classification. Ryan finished third at the Chehalis Activators Invitational and fifth at the 56th annual Shelton Invite – one of the oldest meets in the state.
At the Naselle Comet Invitational she posted a new PR with a throw of 118-7.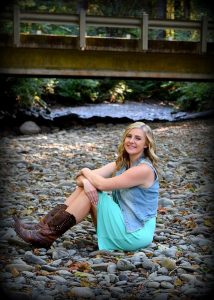 A second consecutive 1B District IV title pushed her back into the 1B state meet for a third straight year. She finished fourth as a sophomore and a self-described "disappointing" eighth as a junior after meet officials disqualified her javelin, deeming it was bent.
She was given a replacement, and while technically it was the same, the familiarity was gone and got into Ryan's head.
"I think it was a case of me trying so hard not to worry about it that I ended up worrying about," Ryan said about her experience at the state meet in 2015. "I thought using a different javelin wouldn't affect me, but I was thinking too much about it and didn't do well."
Her best throw that day was 99-6 – marking the only time during a late-season six-week stretch last year where she failed to crack the 100-foot mark.
The sour taste of that performance, however, was immediately removed at this year's state meet when Ryan uncorked a throw of 128-6, nearly 10 feet further than her previous best.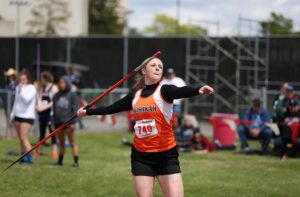 Not a single competitor got within 13 feet of her mark.
Every Wishkah Valley school record holder for each track and field event has their name etched on a board that is on display. There are now two Andersons on the board as Ryan joins sister, Erin, a 2013 graduate who holds the school's top triple jump, on the select list.
"My husband and I have been to state for six straight years now, starting with Erin," Gayle said. "It occurred to us we weren't going to go anymore after this year. We're out of kids. So, this was it. It was fun to see her go out like that. We knew after her first attempt she had the school record. That's all I wanted – to have both daughters on that school record board. The state title was a nice bonus, though."
Interestingly, it was her sister's record triple jump of 31' 3.00 set in 2011 that Ryan initially wanted to break when she started her high school track and field career as a freshman.
"After a while I knew I wasn't going to get on (the school record) board in the triple jump," said Ryan, who finished 11th at the state meet in the event and posted a top jump of 30' 3.50 this season. "I needed to get on there in some other event."
Enter the javelin, which former Wishkah Valley coach Dan Brown suggested she give a try during her freshman year.
"It took a while for me to figure things out," Ryan said. "My freshman year my best throw was only around 84 feet. It wasn't until right before my sophomore year that I thought this was an event I could have success in."
Ryan next plans to attend Grays Harbor College before potentially moving on to Saint Martin's University to pursue a degree in business.