It's difficult to interview Alfie Bensinger and do him justice in a short article, as his community involvement carries a lengthy pedigree of service. It seemed everyone I asked about Alfie knew him. "That's scary," he smiles when I tell him this.

But everything I heard was positive. First, Alfie is a successful businessman and employee in his own right, running Playtime Enterprises (providing support to arcade games in the county) and Alife's / DK Performance on Market Street in Aberdeen specializing in ATV repair and motocross. Along with Chris' Motorcycle Shop in Hoquiam, Alfie's crew supports street bike needs as well. He opened a rec center called Alfie's Hobby House in the late 80s, which served as a popular youth center and restaurant for decades. "Alfie's" (as locals called it) provided entertainment and a community hub for many years – not to mention a venue for lots of dances and concerts that Harborites of my generation remember well.
But what Alfie is arguably most known for is his presence in our local soccer clubs and the local Y. He served first as Youth Director then general Director for the Aberdeen YMCA, before it was unified with the Hoquiam YMCA in 1998 to form the YMCA of Grays Harbor. He's worked in various capacities with the new Y since, including the Junior Leaders Club, the High School Leaders Club, and the "Late Nights" program that runs during the school year.
His soccer pedigree is even more impressive. Right or wrong, I think of him as the man who "brought soccer to the Harbor." But as is common in community members who've kept the faith through years of service coaching, Bensinger is quite modest, shy, even. "A lot of people credit me with that," he says, shaking his head after I ask about his role establishing the Grays Harbor Foothills Youth Soccer Association.
Alfie is quick to give mention to the many other volunteers and staff who've done the dedicated work establishing our clubs. In the same way, he credits the talent of Grays Harbor's soccer presence to the youth soccer coaches and volunteers, as well as the influence the Latino community has brought to the area.
Now, with almost a half-dozen clubs in the county, soccer is a well-established Harbor tradition. Alfie continues to serve as the President of the Harbor Youth Soccer Club, serving the areas of Aberdeen, Hoquiam, Cosmopolis, and Centeral Park, and helmed by fifteen officers and board members. Alfie has coached for both the Aberdeen and Hoquiam school districts, and currently assists head coach Larry Fleming at Aberdeen High School.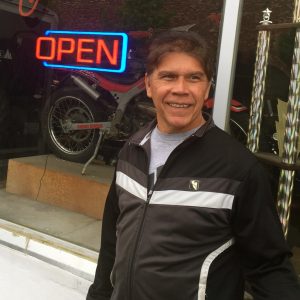 If that wasn't enough, Alfie is also a foster father (he currently has three foster kids in the home; he has had as many as five before), an active motocross enthusiast, and serves on the County Advisory Board for the Straddleline ORV Park in McCleary. He credits his experience as a foster father as what brought him back to community involvement after working in his businesses.
This year, Alfie returns to the position of Camp Director for the YMCA of Grays Harbor's Camp Bishop. Alfie was director for a nine year tenure, but that was some time ago. When I catch up with him the day before he departs, I ask what he expects has changed in his near 30-year absence. He tells me it's too soon to tell. "They wanted me to return to bring some tradition to the camp – things that may have been lost over the last years of leadership." However, he is quick to defend the camp's performance, citing a great group of people involved. "The camp continues to do well. Everyone has done a great job." Camp Bishop, built in 1954, will host more than 500 kids this summer, and continues to help kids make wonderful memories.
Returning to work at Camp Bishop with Alfie is his friend and community peer Tanya Bowers, Director of Youth Programming for the Y. "He's an advocate for youth, and I think that's his really strong point. He's always looking out for the youth in our community." I mention to her how hard it was to get him to vaunt his accomplishments. "Yes, he's shy!" she laughs. "But it's good to write an article about him, because he has done so much for our community."
In our short conversation it's astounding how much Alife contributes. We speak briefly about family members, and I thank him for his service to the community. I tell him it's obvious he is showing no sign of slowing down. He flashes his shy smile again, then gets more serious. "I do what I do to make me feel good. I don't do all of it – foster [parenting], soccer, to 'help kids.'" He pauses, and makes direct eye contact. "I do it because it makes me feel good."
From his reputation with kids young and old in the community, the feeling seems mutual.