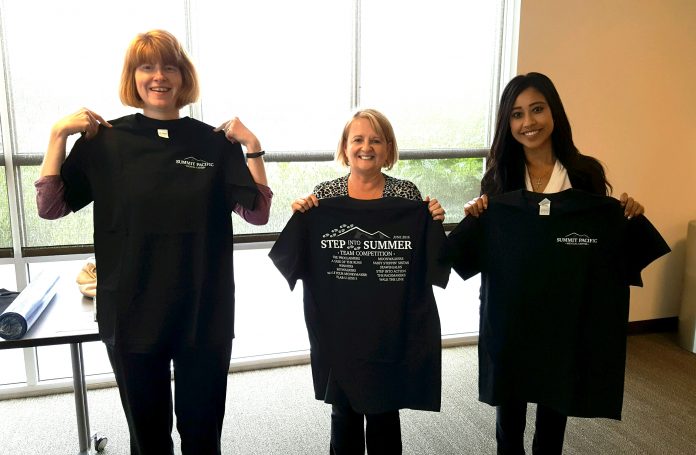 Submitted by Summit Pacific Medical Center
Encouragement and good ole competition filled the halls of Summit Pacific Medical Center (SPMC) during the entire month of June as the Peak Performance Employee Wellness program hosted its first Step into Summer Walkathon.
Peak Performance hosts many small competitions throughout the year including field days, football tosses and hoop shoots, but the Step into Summer Walkathon was the first of its kind — and likely will not be the last.
In January, SPMC gave qualifying employees Fitbits that they could use to track their exercise. Employees used the Fitbits and pedometers to track their steps and competed for the titles of "highest team steps in 24 hours," "highest team steps for the month," and "first team to one million," as well as two individual titles that included "highest individual steps for the first 24-hours" and "highest individual steps for the month."
A whiteboard in the staff hallway was covered with words of encouragement along with some polite trash talking. Some teams withheld their step totals for competitive purposes, while others took to temporary unfriending on Facebook to stay ahead of the competition. One employee stayed awake walking each night until midnight for the last stretch of the completion to win the highest overall individual steps. A few employees reached at least 20,000 steps each day, there were even a few 60,000 step days on the books for the month.
"The main prize was for the first team to reach one million steps. But for individuals to reach a million on their own, wow, that is some serious competitive spirit and enthusiasm," said Karen Brandt, HR Director and Peak Performance Coordinator who planned the competition. "I am beyond impressed with the energy and enthusiasm for Step into Summer!"
Executive Assistant Shannon Brear took first place for individuals with 1,043,575 steps, which is 522 miles, and was a part of the winning team, the self-named "Skywalker,s" who walked more than 1,531 miles together.
Collectively, SPMC employees walked more than 8,650 miles, which is the equivalent of four round trips to Los Angeles from Elma and further than Elma to Hong Kong, Ethiopia or Australia.
The month-long challenge has ended, but the competitive spirit and encouragement at SPMC has not. Many employees still compete in step challenges on their own with coworkers for bragging rights and can be seen walking along the Wellness Trail at SPMC on their breaks, lunches and after work. The Wellness trail is one-third of a mile in length, paved, ADA compliant and is open to the public as well.