There's a perception in Grays Harbor that we don't support our local businesses – that our economic backbone can't support sustainable growth.
Katrina Zozaya of Oceana Spa is proof positive that isn't true.

In the eight years she's helmed Oceana Spa, the enterprise has expanded in scope, services, and products. Their rotation is rapidly growing in terms of cosmetic, clinical, and therapeutic practices. Oceana Spa currently employs a staff of eight, and has developed an apprenticeship to help professional development in the field of esthetics – currently the only Master Esthetician apprenticeship on the Harbor.
I sat down with Katrina on her Customer Appreciation Day and acquainted myself with her professional history. From 2003 to 2008 she served as single-owner/clinician of Harbor Skincare, operating in the lower floor of the Grand Heron building. In 2007 Katrina and her husband Marcus bought a building on West Wishkah Street with plans of expansion. Today the spa provides an impressive suite of services including a full waxing salon, facials, chemical peels, body treatments, massage, UV-free spray tan services, and makeup consultation and application. Katrina is currently furthering her expertise in microblading (applying semi-permanent eyebrows), dermaplaning, PCA chemical peels, and micro-needling – the latter a collagen induction therapy that reduces acne scarring and premature signs of aging.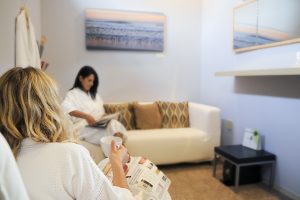 I ask for her "elevator pitch" for her business. Instead of rattling off a list of services, she thoughtfully provides what sounds more like a mission statement: "I hope people come here and they feel better about themselves. I hope they can give themselves permission to take the time to care for themselves."
Katrina estimates ninety percent of her skincare clients are women, and ten percent men. "When men come on board as clients, it's often through their wives." I inquire if men's skincare and specifically their skin conditions differ significantly from women's. Surprisingly, not as much as one might think. Although she muses, "The daily act of shaving is a great exfoliant." (You learn something new every day!) Her massage clients, she adds, are evenly split between men and women. "Our greatest compliments are the referrals we get."
"Skincare has gone more natural in the last ten years," she continues. "There is more demand for gluten-free, cruelty-free, and vegan lines." She is well-versed in all of her products, which populate the front desk area of the spa and include lines from BareMinerals cosmetics, Dermacologica skincare, Eminence Organic skincare, and Farmhouse Fresh bodycare. The scents of these potions are simply divine; Eminence lends to botanical and citrus notes; FarmHouse Fresh has some of the best "sugary" lotions and body oils. I nursed a bottle of their Clementine Body Oil jealously for almost year, and faithfully received compliments when I applied it.
Her apprenticeship is one of the most exciting aspects of Oceana Spa's growth. Working as a team between eight and nine hours a day in a fourteen month cycle, she currently accommodates one apprentice at a time to ensure an in-depth, quality experience. "It's a great opportunity to stay in town and learn a living wage trade. It's a very hands-on, intensive process." Her current apprentice, Alisha McCue, stands to receive her Master Esthetician license in September of this year.
Katrina, who relocated from Seattle after visiting friends in Hoquiam and falling in love with the area, is passionate about advocating for local businesses. She supports the contestants of the Miss Grays Harbor pageant by providing gratis spray tans for the one year tenures of both Miss Grays Harbor and Miss Grays Harbor Outstanding Teen. In addition, Katrina now serves on the board for the historic 7th Street Theatre in Hoquiam. But it is obvious her apprenticeship program is as much a personal calling as a professional edifice. She explains, "Not having kids of my own, I really gravitate to mentoring these 19- to 24-year-old women."
Her dedication and passion shine through the business. The staff are professional and positive. Their Yelp and TripAdvisor reviews are exemplary, and they recently netted their sixth "Best of Twin Harbors" title. The quality of the enterprise is further reflected in the enthusiasm of the staff, including their newest hire (and my own massage therapist) Shadley Roberts. On a personal note, I didn't think I'd appreciate a male massage therapist – until I'd spent time with Shadley! The only difficulty there is scraping myself off the massage table after a treatment, and back to real life. Come to think of it, Katrina's facials have the same effect. You don't want to leave.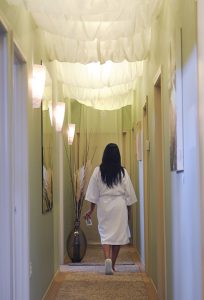 In closing our interview, Katrina reminds me they provide a complementary and private skin analysis for anyone unsure, or intimidated, by a spa's services. Oceana Spa holds a holiday Open House on the first Saturday of every November.
After releasing her to her next client, I say goodbye. But I'll be back next week for my monthly massage. And I might just have to splurge on a few more goodies for summertime in the sun!
Visit Oceana Spa online or follow it on Facebook. Call 360-532-8182 for an appointment or swing by the spa at 501 West Wishkah in Aberdeen.