Mixed Martial Arts (MMA) cages can vary in sizes, some as big as 30 feet across and six feet high measuring 750 square feet.
It is within these eight-sided arrangements of mat and metal that Nathan "Superman" Stolen has found his Fortress of Solitude.

Following a long path through the amateur ranks, including an 18-month hiatus from the sport, Stolen, a 2010 Aberdeen High School graduate, made his professional MMA debut this summer.
It took him seven years to get there, but Stolen has lived up to his ring moniker by registering back-to-back quick knockouts in his first two fights.
MMA is widely considered the fastest growing sport in the world and the Pacific Northwest has contributed greatly to its popularity.
Two UFC champions – Demetrious Johnson and Miesha Tate – call Parkland, Washington home. Incredibly, this small town in Pierce County, with just a population of 35,000, had as many world champions as Rio de Janeiro – a city of 6.3 million and looked upon as the mecca of Brazilian jiu jitsu.
The list of former UFC titleholders from the Evergreen State also includes Seattle's Maurice Smith, Everett's Randy Couture, Maple Valley's Jens Pulver, Tacoma's Benson Henderson, and Josh Barnett, another Seattle native.
Stolen hopes to add his name to that legendary fraternity when all is said and done.
"That's the goal," Stolen said about the UFC. "That's been the goal since the start."
You have to go back nearly a decade to chart the beginning of Stolen's quest towards becoming pro MMA fighter.
Fighting had always been present in his life growing up – blame an abundance of step brothers. "Just being kids," Stolen would chalk the early scraps up to.
But as he entered high school the fisticuffs became less and the desire to seek out the sporting side of fighting emerged within him.
"I was actually introduced to MMA at a pretty young age," Stolen said. "It was the big thing at school with all my friends. We were all into it. I had one friend whose dad coached it. So, a bunch of us got involved. I liked it because it kept me in good shape and I was actually good at it."
Usually, athletes start out as wrestlers and evolve into MMA fighters.
Stolen's path was the exact opposite as he did not start wrestling until his junior year at Aberdeen. By the time that happened he had already had a year of MMA under his belt.
"I just wanted to improve my ground game," Stolen said about his two years wrestling for the Bobcats. "You just try to add as much as possible so you are a well-rounded fighter. You can't just focus on one aspect."
One month after turning 17, Stolen made his amateur debut.
The bout lasted 48 seconds as Stolen's powerful hands were on full display.
Stolen was sold and victory by knockout would become a theme.
"We drove down to a mall in Kelso," Stolen said about his first amateur contest. "The knockout happened so fast. I was pretty riled up after that. It was then when I started to think this was something I could do and be successful at."
Despite piling up wins over the next several years, Stolen remained an amateur as he bounced around from various gyms, looking for the right fit.
"I actually quit the sport for a year and a half," Stolen said. "I moved around a lot (to different gyms). It's difficult to work sometimes 60-hour weeks and still be fully committed to training."
The drive to compete, however, couldn't keep him away from the octagon for long and soon he was right back on course and heading towards his pro debut.
"It took awhile for it to happen," Stolen said. "Seven years. When it finally happened it was just an amazing feeling."
The moment came on June 25 at The Point Casino in Kingston. The introductions lasted longer than the fight as Stolen KO'ed his opponent, John Keay, in 1 minute, 55 seconds.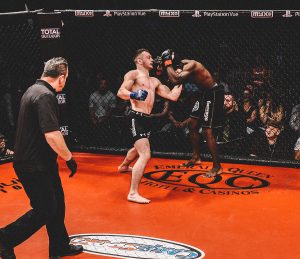 His second bout was even more dominating.
Appearing on the undercard at SFL America's Seattle vs. Los Angeles event on July 23 at the Emerald Queen Casino in Tacoma, Stolen improved to 2-0 by knocking out highly-regarded Jeremie Montgomery in 1:34. From opening bell until the moment the referee waved off the fight, Stolen swarmed his opponent with a barrage of stiff punches, a majority of which found their target.
"I've never been part of a show that big before," said Stolen about the Super Fight League event which was broadcast on the organization's Facebook page where it features 126,000 followers. "Coming down the ramp with the crowd cheering was just incredible."
It's a feeling Stolen hopes will continues throughout his pro career.
"My day is pretty consistent. I work then box at 5:00 p.m., MMA at 7:00 p.m., back home at 9:00 p.m., go to sleep, and then do it all over again the next day," said Stolen, who also works at Hoquiam Plywood. "I am going to just keep working towards my goals. The (SFL America) show felt big to me. My coach said these will seem like small shows in the future. That's the goal."