Twenty-year-old Hoquiam High School graduate Tim Hoover has broken with contemporary fashion. He has swapped baseball cap and t-shirt for a pinstripe dress shirt and a felt hat with various items tucked into the band: some dried flowers, a small corked clay bottle and an ink pen. Anyone asking Tim about his unusual attire should be prepared for a history lesson delivered with great gusto.
The handmade felt hat is the third of its kind in Tim's possession. The first one was given to him by his great grandfather, Lawrence. "This kind of hat was common in the 1920s," he explains. "Travelling journalists wore it with the tools of their trade tucked into the band, pen and ink and some local flowers for decoration."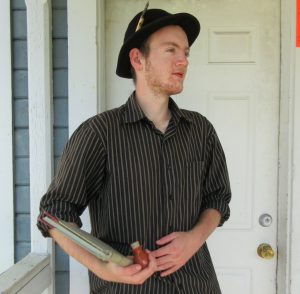 Wearing the hat is only one of the ways Tim expresses his love for history which has been growing ever since he helped clean out the house of a Desert Storm veteran in 2008. The At age 12, Tim discovered a tenth edition of The Complete Works of William Shakespeare on a shelf and was smitten. Three months later, he acquired a 1944 typewriter which the original owner was about to throw away.
Volunteering at the Polson Museum in Hoquiam under Director John Larson inspired the budding historian on his way. He quotes Larson's words of wisdom: "Knowledge is power. If you know something, it is easier to learn more."
Visiting the Veterans of Foreign Wars in Hoquiam and striking up conversations was a way for Tim to learn about history firsthand. One of these visits produced a treasured artifact for his collection. A World War II Marine veteran bestowed a 100-foot 1915 tape measure. It had been used by the man's father, a surveyor in World War I, the only souvenir the son had left from his father. He gave it to Tim with the words, "young man, you look like a man of class who likes old things."
A high school class project about the 1920s resparked Tim's interest in history. He clearly remembers the nice, hot October day he read The Great Gatsby by F. Scott Fitzgerald and fell in love with what he considers the golden age of American society. "It was like an addiction," he remembers, "the more I studied, the more I wanted to know." He realized the unique impact the different cultures coming together during that period had on modern day America. When working on his oral report he completely immersed himself in the period. He cooked the foods and danced to jazz music in his room. He read so much literature of the time that he found himself using the slang.
A month after he had presented his report in class, his teacher Tim Pelan, told Tim that he knew more about the period than Pelan himself. On what Tim calls a fateful day, he had lunch with Pelan and history teacher Mr. Dawson and school librarian Mrs. Pavletich. They asked him to tutor other students in history. This was the beginning of his living history group. He made friends and they began to meet and share their dreams. "If you put your heart, soul and mind to it," says Tim, "you can believe that the American dream is still alive today and you work for it no matter how long it takes."
Tim's living history group has been getting together every six to twelve months to play period music, eat period food and exchange ideas. They learned how to drink the popular soda of the time, Moxie Cola, a predecessor of Coca Cola, which is currently being produced again. They ripped apart modern dress shirts and restitched them to look like twenties shirts with a very old treadle sewing machine Tim inherited from his grandmother.
The group has looked for larger history groups to join but has found that their time period, the late nineteenth and early twentieth century is hardly represented in the area. They have talked to a group in Northern Michigan via Skype.
Tim has big dreams. He wants to achieve non-profit status to be able to raise money for community projects. From the Society for Creative Anachronism, he has adopted the idea of starting a period town inhibited by period characters. He has already adopted the personas of a justice of the peace, a mayor and a travelling journalist. He plans to partner with Washingtonian Print and their historical printing equipment to produce period newspapers. A big dream is to produce a film about the twenties in Grays Harbor.
Tim is working on publicity, including social media, to attract more active members to the group. "Please volunteer and join us to be part of something positive and healthy for the community," is Tim's invitation to Grays Harbor.
Tim Hoover can be reached at 360-970-1174.