In Copalis Crossing, at the Hogan's Corner intersection, a monumental statue of the Greek sea god Poseidon is lifting its trident 15-feet high into the sky. The god's bust is emerging from a totem-pole-style column of whimsical sea creatures: serpent monsters, shark, turtles atop whales and seals. Chainsaw sculptor Tony Robinson only recently completed this imaginative piece carved from local redwood on the lot of Seabreeze Gallery, a new store and gallery exhibiting and selling the work of 30 local artists and artisans.
Robinson grew up on a farm in Ohio. He had always wanted to build houses, a career he pursued for 20 years. After building custom homes in Texas, he came to Grays Harbor in 1997 where he worked for Bill Peters Construction, Western Washington Construction and Northwest Catastrophe. As lead construction superintendent, he renovated Iron Springs Resort beginning in 2010. This year-long project included the remodel of 17 cabins, the demolition of the old lodge and the construction of a new pump house.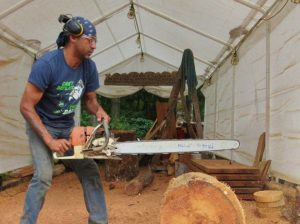 A failed marriage turned Robinson's life and career upside down leaving him penniless and depressed. In 2012, he found himself living in an RV park in Westport looking for a new direction in life. During long walks on the beach, he collected sea glass and stones which he fashioned into jewelry. The stunning work of his neighbor, driftwood artist Jeffro Uitto, inspired him to carve wood.
Robinson began his sculpting career by carving the figures of a wolf and a heron into a piece of driftwood he had originally planned to use for displaying his jewelry. But bigger things were to come. "One day I was walking on the beach and found a large piece of driftwood. I wanted to carve it into a wolf," he says. "I bought a chainsaw, took it to the beach and started carving. I made a gigantic mess." However, the fire had been lit. Uitto gave him a piece of driftwood from which he created an image of wild horses titled "Hurricane."
Robinson views his new creative life as a quest which began when he was 40. "You need three things to be an artist – a gift, ambition and desire," he states. Robinson's new career soon became a consuming passion. Looking for the perfect site for his work, he moved from Westport to Tokeland, then to Ocean City until he found his present home location at 1552 Ocean Beach Road, Copalis Crossing, where he now operates under the name of Native Beach Accessories. His display of large dramatic chainsaw carvings is impossible to miss.
Friendly and exuberant by nature, Robinson has been able to build a support network. He is a man of faith who is grateful for his creative gift and opportunities coming his way. "I never have trouble getting wood," he says. "I know the right people. I often trade a sculpture for wood." He felt honored to be asked by owner Keith Hoffman to join the artists at Seebreeze Gallery. He now alternates his working days between Copalis Crossing and Hogan's Corner optimizing exposure to passing motorists. Robinson has also been part of the Grays Harbor Community Hospital Healing Gallery for years.
Commissions have been coming in from as far as Everett, where a customer now owns a life-sized sculpture of the Seattle Seahawks' cornerback Richard Sherman. Seahawks carvings are popular. Robinson recently completed a commission for the busts of five players. He is currently restoring a Seahawks carving that has been vandalized. His favorite themes, however, are creatures of the magnificent natural environment he lives in: salmon, bear, eagles, wolves, whales and, of course, Big Foot. He also loves to carve wood sprites out of odd shaped pieces of driftwood.
The lot on Ocean Beach Road houses Robinson's home with a workshop and two tents. He likes to begin the carving process by blocking out a rough shape in wet wood in his large carving tent. He fills up his smaller drying tent with rough shapes. After a month of drying time, he is able to carve clear details. Some pieces are painted or receive a clear finish in the climate and dust controlled, well-lit finishing room he constructed adjacent to his workshop.
Robinson is never satisfied with his work. "I like to revisit my carvings and make improvements," he says. He has never had any formal art training and rarely makes sketches unless requested. However, he is constantly studying and reading to grow. His reading list includes William Blake and a life of Michelangelo. He is learning how to draw. "They say you need to learn to draw in order to sculpt," he quips. "I did it the other way around."
A quote by William Blake carved into a large board hanging in his big work tent expresses his philosophy:
I must create a system
Or be enslaved by another man's
I will not reason or compare,
My business is to create.
Call Tony Robinson at 360-269-2536, email robinson72t@gmail.com or visit Native Beach Accessories on Facebook.