For John Sand, his unexpected journey on the golf course that's led to a state championship started with a simple question from his brother.
"You want to play golf?" asked Nolan Sand, John's older brother.
And Sand, at age eight, started swinging a golf club. A year later, he moved from his brother's tips to instruction from a swing coach. Not long after that, he started entering golf tournaments, winning more than his share of trophies by the time he was a tween.

Sand got his first big victory on the golf course early in life. He was 10 or 11 when he beat his dad, Mike. He said they're still talking.
Now a senior on Hoquiam High School's golf team, Sand is shooting for his fourth straight trip to state. While an A-student – he's home schooled and is now taking classes at Grays Harbor College – he's found the value of having a short memory on the golf course. When a bad tee-shot sprays off the mark out of bounds, he just tries to forget about it and concentrates on his next shot.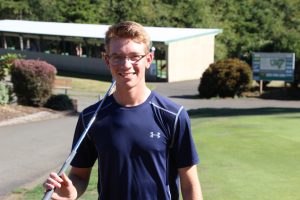 "You always try to think about your next shot," Sand said during a recent team practice at the beautiful Highland Golf Course in Cosmopolis. "That's what any teacher will tell you. You just forget about it and you move on. That's all you can do because it's already happened – just focus on what you've got left."
While the 6-foot-3 golfer is a boomer off the tee-box – he can blast a driver 300-plus yards – the strength to his game are his iron shots. His last name might suggest something else, but Sand is good at avoiding those score-busting sand traps
"John's claim to fame is that he's excellent from 100 yards in. His short game is really sound," said Larry Dublanko, who's now in his 11th season as Hoquiam's boys golf coach. "When he's driving and putting the ball into play off the tee, he can wrack up some pretty low numbers."
That's one of the things he's working on right now – getting his ball into play, in position to score off the tee box. To smooth out his tee shots, Sand has been getting special instruction from Joe Thiel, a long-time golf coach who has worked with a number of players now on the PGA and LPGA.
"When John is in position he can light up the golf course," Dublanko said. "He's pretty solid with his chipping and short game around the green. Where we want to see John improve is off the tee. That's going to happen, I'm sure. He's getting some great instruction in that regard."
And with Sand back for his final season, this is one talented Grizzlies team that is hoping for another trip to state. Along with Sand, Josh Burgher, Ryan Cole, Brayden Dayton, Parker McCormick and Zach Spradlin are all playing solid golf. Dublanko is optimistic and excited about his team's chances. The goal is to go undefeated.
"This is one of our most gifted teams that we've had from top to bottom," Dublanko said. "Our hope is we can keep this going. These guys can't allow the wheels to come off. We're hoping everyone has a great season and everyone keeps their part."
And like Sand, Hoquiam's No. 2 golfer, Josh Burgher, got an early start in golf. Burgher was only three when he got some plastic clubs and started swinging in his backyard.
"When I was five, I got a set of real clubs," Burgher said.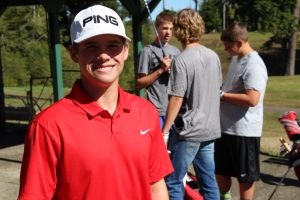 From the start, Burgher showed promise on the golf course. When he was just seven, he broke 40 for nine holes.
"My best score with witnesses is a 33," Burgher said. His best score for 18 holes is 68.
"The thing I need to work on is putting," Burgher said. "If I could putt better and make more of those birdie putts, I'd be a lot better off."
Besides being teammates, there's an added connection with Burgher and Sand.
"My brother is married to his sister," Burgher said. "I'm actually related to him."
That's via marriage and via a passion and talent for golf. Both Burgher and Sand practice golf year around. Come winter, Sand packs his clubs and heads for Arizona for a couple of months.
"I get out of the rain and practice five days a week," Sand said.
When Sand sinks his last birdie putt for Hoquiam at state this spring, he won't be finished with golf. He'll play next year at the University of Denver where he'll again be both student and golfer as he plays on the school's team.
"I'm really looking forward to it," said Sand, who plans on majoring in business. But for now, it's focus on the next shot and winning the next tournament.