Synergy: It is defined as working together to create a whole bigger than the sum of its parts. This band has it. Whether you are listening to Six Pack Pretty play their 80's cover songs live or listening to the band members affably talk to one another, you can see how they gel and come alive as a group. And their growing audience of fans feels it too.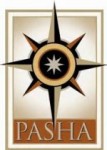 Rocking Grays Harbor and beyond since 2003, this five-member band throws down classic rock tracks with style and verve. At the heart of their mission? Not just to have fun and honor great songs (including forgotten and rarely-heard tunes), but to work together to make their community a better place through music.
I met in Elma with Six Pack Pretty at drummer and percussionist Duke Harner's cozy shop building where they rehearse. It was my second time meeting with the band (read about them on GraysHarborTalk here). On this rainy fall evening, they were busy running through their set list for the upcoming Rokfest. Rokfest is their annual fundraiser for the South Pacific County Humane Society animal shelter and it is at the core of what they do.
Rokfest honors band member Jeff "Rok" Sanford, who passed away in 2011. He was a tireless advocate for animals, and the members of Six Pack Pretty have never forgotten this. They spend months preparing and gathering donations to pull off a great night. All of the proceeds go to help animals and their year as a band centers around this event. This year's event was held at Charlie's Sports Bar in Montesano and proved to be their biggest Rokfest ever, raising over $2,500 for local cats and dogs.
Six Pack Pretty consists of Don Stone (lead guitar and vocals), Mark Skinner (lead vocals and keyboard), Duke Harner (drums, percussion, and vocals), Mike Piranian (keyboards, guitar, and vocals), and "new" member since 2011, Jeff Perrin (bass). As the band played through their set list, I found myself toe-tapping and humming to the music, like so many of their fans. At a typical Six Pack Pretty show you might hear Kansas' "Carry On My Wayward Son," Toto's "I'll Supply the Love," or the Footloose theme song.
Not many rock bands devote themselves so thoroughly to a charitable cause. This shows Six Pack Pretty's synergy: they bring together community sponsors, supporters, and local music fans to not only enjoy their music, but to help the animals of their community.
So what has the band been up to since 2014? They've been playing new venues, including the Quinault Beach Resort and Casino and the Thurston County Fair. They've been invited to play further afield Western Washington and play as many shows as the band members' busy lives allow. They continue to push themselves with challenging music, such as Journey classics.
The band decides as a group what songs to play. In fact, they are a close-knit bunch and you can tell they truly enjoy their time together. I asked each of them what they liked best about being in Six Pack Pretty. Mark cites, "fun times, laughter, and great friends." Jeff gets good-natured ribbing about being the "new guy," but is clearly part of the group. He agrees with Mark, adding "the camaraderie" as the number-one thing he enjoys. Duke adds, "We're a band of introverts. We've been friends for years, and we have similar taste, and compatible personalities." Don says the group flows together with ease. "We get along, we're friends, and there are no egos involved," he explains. Mike says his favorite element of the group is "our love of music, and the happiness it brings – just bantering with the group."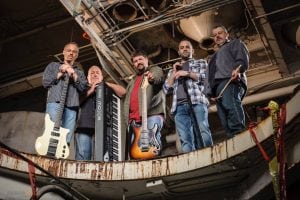 Don mentions that the band regularly has a "Boys' Night," where they seek out inspirational music videos, eat pizza and study the musicality of bands they love together. All in all, they each see the band as a "fun outlet" and counterpoint to their busy lives.
Besides their music, the most winning things about Six Pack Pretty are they are free of ego, humble to their community and so grateful to everyone who's supported them along the way. "We try to respect the music as much as possible.," says Mark. "We take the music seriously, but not ourselves."
Each of the band members lives, works and plays in Grays Harbor or Thurston counties (read more about their daytime occupations here). Duke Harner also drums for the Woodland, Washington-based rock band Stifler. Stifler joins Six Pack Pretty in putting on Rokfest each year. Don Stone plays with the Bruce Hughes Band and rock-country band Humptulips. And Jeff Perrin plays with the Dukes of Swing, the Aberdeen Elks Big Band group.
To join the Six Pack Pretty fan club, follow them on Facebook. Catch upcoming shows, live video interviews and learn more about the many local Rokfest sponsors, from 104.7 KDUX radio to Dennis Company (and so many more businesses and individuals – this event is a true community effort).
For booking inquiries, you can also email them. And to get you dancing, be sure to catch some of their tunes on Reverbnation.