There are some people in the world who are endlessly generous, committed and dedicated in serving others and their community. Harold Warren is one of those people. I found Warren where one might expect to find him at 10:30 a.m. on a Wednesday – in his office, at Aiken and Sanders, where he first began his career as a certified public accountant in 1962.

Warren has spent the vast majority of his life in Grays Harbor. "When I was around one year old, my family came here from Missouri to escape the Dust Bowl—that should give you an idea of the time frame," Warren chuckles. That year was 1934.
Throughout the years, any time he spent away from Grays Harbor was brief. After studying for two years at Grays Harbor College, he completed a Bachelor of Arts degree in Business and Administration at the University of Puget Sound. After serving in the army he worked for a short time in Olympia, then resettled in Grays Harbor. Once there, he simply stayed and the list of public services that have benefitted from him putting down roots in the Harbor is long.
When asked how he first got involved with volunteering in the community, he credited the job he took with Bob Aiken, right where we sat at Aiken and Sanders. "One of the things we all had to do was be active in the community," he says of his beginnings at Aiken and Sanders. He got started with the Active 20-30 Club, an organization for young people to get involved volunteering in their communities.
From there, he joined the Lions Club in 1966, and began getting involved in helping non-profit organizations, such as the Evergreen Counseling Center. The Lions Club serves a great number of organizations and projects in the Grays Harbor community. He estimates his service with the Aberdeen Lions Club to have lasted 50 years.
Through the Lions Club, he worked with Coastal Harvest, an organization that combats hunger by delivering food throughout Southwest Washington, helping them achieve their non-profit status.
It was through his connections with Coastal Harvest that Warren began his decades' long involvement with FoodBall. The rivalry between the Aberdeen and Hoquiam High Schools extends to raising funds supporting local food banks every year around Thanksgiving. The charitable tradition began in 1981 with Jill Smith Bellis. Warren was asked to assist in counting the totals and has been a fixture during FoodBall ever since, usually alongside his trusty 10-key adding machine. "They used to bring in stacks of dollars and coins, but now it's mostly bank documents," he says. "The students and advisors do the real work, I just do the tally and determine who the winner is," he adds humbly.
Doing the numbers work for organizations is Warren's niche. He has served as treasurer for several organizations, including the Friends of the Aberdeen Museum, the Driftwood Players, and the Grays Harbor College Foundation. "My longest time as treasurer for an organization was with the Grays Harbor College Foundation," he says, a position he held for 25 years. He has also worked on fundraising projects, including two for renovations at the Aberdeen Timberland Library.
I suspect Warren's passion for being an active community member began even earlier than 1962. In his student days at Grays Harbor College, he was a member of several organizations. He served on the student council, the debate team, and was part of the Phi Theta Kappa honor society.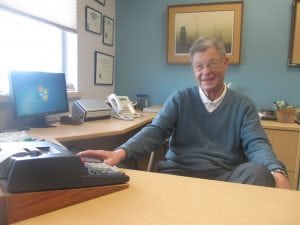 His service has not gone unnoticed. Recognitions of his service include an award in October 2004 from Points of Light, a national organization of volunteers organized by President George H. W. Bush, and the Aberdeen Museum of History, where he was recognized as "Harborite of the Year" in 2013.
"It's been a good life," he says of his time spent in our community, "and the best part is with each new organization, you get a new set of friends and acquaintances, you get to meet people you wouldn't have met otherwise."