It took a wild three-overtime nail-biter followed by a close victory over a fellow league champion, but the Hoquiam High School boys basketball team was able to add some more hardware to its trophy case.
Jack Adams III and Jace Varner each scored 16 points as the Grizzlies claimed the Class 1A District IV championship with a 64-61 victory over King's Way Christian on February 17 at W.F. West High School in Chehalis.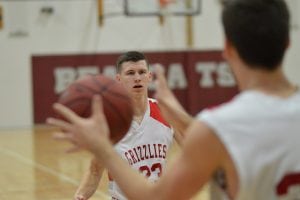 The championship victory came four days after Hoquiam (16-7) bested La Center, 89-75, in a three overtime thriller that saw Varner go for 37 points and Adams chip in 30.
"It's kind of been a roller coaster this season with injuries and grades and guys missing here and there," Hoquiam coach Curtis Eccles said. "It's like a puzzle and we were able to finally fit the perfect pieces together to get to this spot. I am just so proud of each and every one of these guys."
The Grizzlies advance to the regional round of the state tournament and will play Medical Lake (16-8) in a loser-out, winner-to state game on February 25 at Cheney High School.
Hoquiam is one of eight teams faced with a win-or-go-home scenario at regionals after finishing a surprising 35th in the final WIAA RPI rankings. Medical Lake came in ranked 14th.
The Grizzlies defeated Seattle Christian, 67-59, at last year's regionals before heading to the state tournament where they finished sixth, marking the team's first state placing in 10 years.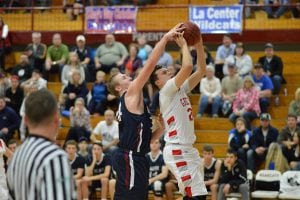 A victory over Medical Lake sends Hoquiam back to the Yakima SunDome for the first round of state where they will face the loser of the regional game between top-ranked Freeman and eighth-seeded Newport on March 1.
"We'll take it. We are actually in a great spot," Eccles said. "Our RPI ranking was unfortunate, but we play next week and that's all that matters. Just keep winning and we'll be just fine."
The Grizzlies, who feature six seniors on their roster, posted one of the more memorable team victories in program history when they knocked off La Center in the district semifinals.
"That triple overtime was just phenomenal," Eccles said. "We shot lights out from the free throw line in the fourth quarter, going 12 for 12, and those two guys (Varner and Adams) showed why they are MVPs of this league. The six seniors really put it on the table."
Hoquiam dominated the third overtime session, outscoring La Center, 16-2 and were able to successfully carry that momentum over into the district title game where they prevented King's Way from defending its championship.
"That (district semifinal game) is definitely going to stick around. That win pushed our confidence way up," Varner said. "Only having six guys play, that's says something about this team. Everything is clicking at the right time."
The Grizzlies led, 32-27, at the half and sank nine 3-pointers against the Knights. King's Way had a chance to send the game into overtime on the final possession, but their 3-point attempt was off the mark.
"It's crazy. I love these guys. They're my family," Varner said about his teammates. "Coming out as district champs, senior year, I'm going to remember this moment my entire life."
The last time Hoquiam won the district championship was in 2004, the same season the Grizzlies went on to win the Class 1A state title.
Varner and Adams are joined on the roster by fellow seniors Ryan Espedal, Antony Nash, Zach Spradlin and Jerod Steen.
While the Grizzlies still have one more hurdle before punching their ticket to the state tournament, the Montesano girls have already secured their trip to Yakima after finishing the regular season ranked fifth in the RPI.
The Bulldogs (19-4) fell to undefeated La Center, 66-64, in the district championship game. Montesano senior Jordan Spradlin scored a game-high 25 points, but it wasn't enough as the Wildcats (22-0) drained four 3s in the final frame to edge the Bulldogs.
Montesano will next play fourth-seeded Okanogan on February 25 at Wenatchee High School. A victory would place the Bulldogs in the state quarterfinals on March 2, while a loss puts them in a loser-out contest on March 1.