Shrouded in mystery and lore, the legendary Sasquatch is said to be lurking in the remote forests around Grays Harbor. Out the dense, primeval woods of the Olympic Peninsula where few people venture each year, the mythical, ape-like creature is said to be living, occasionally sighted by visitors and locals alike. Nearly everyone in Grays Harbor has had or knows someone who has had a Bigfoot experience
making this region one of the most likely places to encounter a Sasquatch. Deep in the timbered river valleys, the Grays Harbor
region is the ideal place to possibly make a believer of even the biggest skeptic.
Sasquatch sightings have been occurring around Grays Harbor for as long as people have been in the area. Tales from the local tribes tell of the C'iatqo, a large ape-like creature that roams the forest, occasionally tormenting and visiting locals throughout the Olympic Peninsula. The increase in population hasn't stopped the Sasquatch sightings around Grays Harbor. According to the Bigfoot Field Researchers Organization, there have been at least a dozen reported Sasquatch sightings in Grays Harbor over the past decade, with many more not reported to this group.
David George Gordon, author of The Sasquatch Seekers Field Manual has been helping educate the region on Sasquatch and how to document your experiences. His book is published by Mountaineers Books with the goal of inspiring readers and Sasquatch enthusiasts to observe nature closely, gathering scientifically acceptable data and refining wilderness navigation skills. The goal of Gordon's book is to help everyone become a proficient citizen scientist, hopefully helping to bring Bigfoot into the spotlight of scientific scrutiny.
"In my opinion, the entire Olympic National Forest and Park are easily walking distance for Sasquatch," replied Mr. Gordon when asked about why the Grays Harbor region is a hotbed for Sasquatch sightings. "Not many areas have been trod as little as this corner of the Pacific Northwest. There is a lot of wilderness out there that isn't visited too often."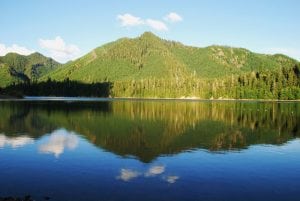 "The basic rule of critical thinking is that extraordinary claims, like saying you have seen a Sasquatch, leads to extraordinary proof," explained David. "If you want to help prove or disprove that there is a Sasquatch, have everything lined up for your research and documentation. Help the experts and fight sloppy science. My motivation is to get as many people as I can out gathering credible evidence. Be vigilant with details."
Once you have brushed up on how to best document your adventures into the Bigfoot-filled forests around Grays Harbor, head out to a few specific areas for your best chance of an encounter. While Sasquatch encounters are reported all around the Pacific Northwest, there are a few remote places where you stand a better chance of having an encounter. Remote and isolated, these are ideal destinations for campers and backpackers hoping for an unique experience.
Your first Sasquatch stop should be around Wynoochee Lake and the Wynoochee River Valley. Far from civilization, this remote section of the southern Olympic Peninsula has had numerous sightings and unexplained events. In the early mornings and late at night, explore the roads and trails of the region if you dare.
One of the most famous Bigfoot events, complete with a sound recording, took place in 2012 and was documented by the researches on the TV show, Finding Bigfoot. Your best bet for lodging are in Montesano at the Guest House Inn and Suites, or staying at a Yurt at the Coho Campground in Olympic National Forest.
Once you have explored the Wynoochee, head to the Quinault Rainforest where the region's hiking trails and ancient rainforests might be holding your next Sasquatch experience. After you make the Lake Quinault Lodge your basecamp for adventure, head to some of the Squatch-iest destinations around.
Try heading up Donkey Creek Road and then continuing up National Forest Service Road 2204. This remote road is on the backside of the Quinault Rainforest and is as dark and removed from society as you can get. A drive out this way during sunset and returning after dark will have you seeing bear, deer and maybe even a Bigfoot.
Also check out the hiking trails in the Quinault area. One remote trail with unexplained noises and sightings in the region is the Fletcher Canyon Trail, which straddles the Olympic National Park and National Forest boundary. The old growth forests and huge ferns will be hiding numerous species of animals and, quite possibly, a Sasquatch.
Author David George Gordon feels that the Sasquatch is a big mystery of nature. Even if it doesn't exist, belief in the creature serves as a symbol of the wildness and unknown elements of our world and the wildness within ourselves.
At the end of the day, if you want to see a Sasquatch, you'll need to head outside often, exploring regions not often visited by the masses. Good luck and make sure you document your adventures and experiences.