It's not every day that you have what you would call a great experience at the Department of Licensing. Most would liken the task to something just short of a tooth extraction. That is unless you were to visit the Hoquiam Licensing and Transportation Agency in Grays Harbor County where you'd be met with great service, great people, a great atmosphere and a great assortment of animals.
There are five cats, a dog and a menagerie of birds who call the agency their home. In addition, four friendly and attentive human licensing clerks work the counters of the beautifully antique and art-laden lobby. Among them are d'Courcey "Kathi" Hoder and her daughter Angie Messmer, second and third generation clerks. Ethel Smith, Kathi's mother, began the service to the Harbor in 1932. Customer service has been their key quality for 85 years now—and some of their customers aren't even human.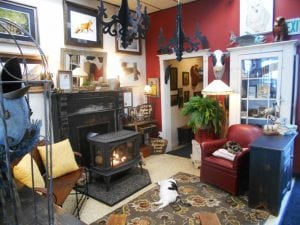 "My father," says Kathi, with a smile, "thought I was a lonely child, so he brought home anything he found [alive] on the highway." She describes her departed father as a colorful mountain man—a John Muir type—and attributes her love for animals to him. That affection for nature's creatures has rubbed off on her daughter and together they nurture injured animals back to wellbeing. Angie has a license to rehabilitate birds and operates The Friends of Slim Pickens Wildlife Rescue.
"We've had everything known to man—eagles, ravens, seagulls, deer, raccoons, geese, possums, squirrels—just yesterday we received a baby starling and a baby robin." At home she has a raccoon that came to her last year as an infant. "It won't go away," she says. "It fell in love with my dog, they're best friends. They swim together in the pond."
There's also a goose at home. "I've given it away, but it keeps coming back." It won't even migrate.
But, the bulk of the rescue animals—most of them birds—are cared for at the office until they can be released. However, there are permanent residents like the nearly human raven, Sheldon, and the feisty cockatoo, Wacky. The animals may be an attraction for some, perhaps the décor for others, but if it weren't for the quality service this would still be just another government agency.
"We're the local Pickle Barrel," says Kathi, "people come from all around." No state resident is required to use the Department of Licensing in their home town and Kathi figures some don't want to. People will come out to the Hoquiam office just to 'see it to believe it' or sit and eat their lunch in the homey atmosphere. And despite the animals and antiques, it might just be the people that actually bring them in.
When it comes time to hire a new clerk Kathi doesn't take résumés. "You'll get an interview if you can talk to me," she says. "I can train anybody with personality. We're here for the customers. I like customer service," says the woman who resigned her ten-year seat as an Aberdeen City Council Member (due to "a move out to the bush") in November of 2016.
Kathi says her political service came from the same motivation as her service as a clerk – to be honest, open, frank and serve the people. "I'm not politically correct, but I like politics." She has never cashed a salary check from the city, but signed every one of them over to a charitable cause.
Kathi grew up at the Hoquiam Licensing and Transportation Agency. Back in the 40s, everyone was required to get their licenses renewed during a three month period, she says. The state didn't stagger licensing renewal like they do now. Instead, there were lines out the door and the clerks worked twelve to fifteen hour days. There were no daycares either and so she went to work with her mother. Kathi has worked there since she was fifteen years old—52 years on the job!
"I can't imagine ever retiring. I hate that word. I collect jobs and I like to work. I wouldn't work in a cubical [though]," she says. She lives to serve and she likes to be active. On weekends she uses her "quiet time" to work in what she describes as her funky yard. "I like to cook, obviously," she chuckles, "I like to garden, go to art shows, art museums" and she collects antiques. Gesturing widely to indicate the setting she admits, "My house looks the same. I like repurposed wood, antiques—things that have history—and art, and, if you've got it, you might as well show it."
She remembers the agency being housed in several buildings over time: one that flooded so frequently, "we wore rubber boots to work more often than not." Another was so small, "you had to go outside to change your mind." During high school, when she wasn't working the licensing season, she would go to school half a day and work half a day through the DECA program doing jobs like designing window décor for Wolf's.
"Some days [people can] make it frustrating," she says, "but I wouldn't change it." When people don't understand or get upset, she says you just have to show you care. "Don't act snooty. Be honest. People can tell if you're working for them."
"We aren't here to collect revenue for the state," she says, "and, we're here to serve the people." And it seems, animals, too. "We're just that good," she smiles.
And that's certainly something to crow about.
The Hoquiam Licensing and Transportation Agency
2616 Sumner Ave, Aberdeen
360-533-4333
Monday – Friday, 9:00 a.m. to 5:00 p.m.