Submitted by Adopt-A-Pet
Meet Sparky!  He is a happy, 57 pound, 7-year-old, who loves exercise!  He has a blast in our agility yard, and really enjoys playing fetch!  You can be sure that he will always greet his people with joyous enthusiasm.  He loves car rides, knows how to sit on command, really likes water, walks great on a leash, and as a bonus can wave his paw in the air!  He has a beautiful white coat, bold black markings with a touch of brown. Sparky is very loving, smart, and has an optimistic personality.  My forever family will need to be active, have a securely fenced yard, and provide me with a grain-free diet.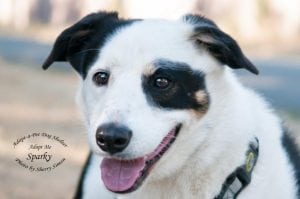 Adopt-A-Pet has many great dogs and always need volunteers. To see all our current dogs, visit the Adopt-A-Pet website, our Facebook page or at the shelter on Jensen Road in Shelton. For more information, email thedoghouse3091@hotmail.com or call 360-432-3091.