For Grays Harbor native Tiffany Maki, music is a passion. In fact, it's a Maki family tradition with most of her family – parents and siblings – also engaged in musical pursuits.
"I have been in some type of concert band my entire life," she says. A member of the nationally renowned Aberdeen Elks Club Band for several years and an Elks Club member for 15 years, Maki enjoyed sharing the patriotic and classic marches with Harborites as well as with audiences around the nation.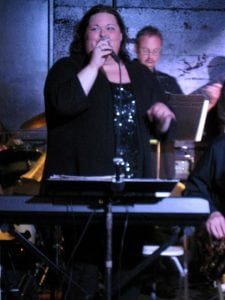 However, those who love playing classic concert band music have been sitting idle since the Elks band dissolved several years ago. Until now.
Maki was approached by Dr. William Dyer, music instructor at Grays Harbor College, last spring. "He said, 'I have this idea about forming a community concert band. And I want you to direct it.' That was the first I'd heard of the idea and I was blown away by the offer," says Maki who had been a band student under the direction of Dyer at Miller Junior High.
"Dr. Dyer said he has a lot of respect for my contacts and connections in the community as well as confidence in me. That meant a lot," she adds.
When the call for musicians went out in June, the community responded. So far, 43 (and growing) musicians have signed up. "I want to give our talented community musicians a chance to play again," says Maki. "I already have a great mix of ages ranging from a sophomore in high school to someone who is in their 80s. By including everyone, from young to old, we encompass the community."
Many musicians have expressed their gratitude to Maki for a chance to play again. "Many in the community are just as nervous as I am to try this new endeavor," she admits. "They may not have played their instrument in 10-plus years. But, people will say to me, 'I just want to play my flute again,' and they are excited at this opportunity."
Grays Harbor has a well-established symphony orchestra, but a concert band is different. "The Grays Harbor Community Concert Band allows for instruments not in the Grays Harbor Symphony Orchestra," explains Maki, "like the saxophone or the tuba, which my dad plays. The band gives them a venue to play. After high school, there isn't anything local to keep their chops fresh."
And, she adds with a laugh, "Lips are what we call chops in the band world."
A concert band is like a marching band in instrumentation. No string instruments are included. Woodwinds, brass and percussion are featured. Percussion sections are vast with timpani and snare drums, a massive bass drum as well as fun auxiliary percussion, such as chimes, bells and tambourine.
The band held its initial rehearsal on September 21 and Maki is excited for rehearsals to continue weekly on Thursdays at 6:30 p.m. in the Wellington Rehearsal Hall on the Grays Harbor College campus, except for the final Thursday of each month, when Maki has a long-standing gig as lead vocalist with local band, Dukes of Swing, and rehearsal is canceled.
Musicians are still needed and welcome. "I'd love another tuba player to join my dad, but really, anyone who wants to share this passion for making music should join us. I don't care if I have 10 flutes or 20. Even if you don't have an instrument, we can work together to make it happen," she says, noting that some community members have even connected with her to donate instruments to the band.
Three concerts are scheduled throughout the year, open to the public. "I love themes and I've picked out music for each concert with a theme," shares Maki. "We will have full use of the Bishop Center with lighting, screens ­– everything! I'm excited by the possibilities."
The first show will be on January 14 with the theme, "Strike up the Band!" and featuring the famous song by the same name. "The music will all be about new beginnings and taking chances as we venture out into the world of music, making our mark," Maki shares.
The second concert, planned for March 25 at the Raymond Theater, is entitled "New Beginnings", showcasing the theme of starting out fresh and including several songs Maki describes as "illustrated pieces" because they create a picture or painting in your mind.
The season's last concert for the year will be on June 20 and entitled, "And the Band Played On." Maki envisions this concert to center around togetherness and acceptance.
"I cannot wait to start playing," Maki says. "This is the beginning of something really amazing for our community."
There is always room for more musicians in the Concert Band. For more information, contact Tiffany Maki at 360-581-1241, tiffany.maki@ghc.edu or visit the Grays Harbor Community Concert Band's Facebook page.
Community musical groups sponsored by GHC include:
GH Symphony Orchestra • Mondays • 7-9 p.m. • Dr. William Dyer, conductor 
GH Civic Choir • Tuesdays • 7-9 p.m. • Kari Hasbrouck, director 
Opera Workshop • Wednesdays • 7-9 p.m. • Ian Dorsch, director 
GH Concert Band • Thursdays • 6:30-9 p.m. • Tiffany Maki, director 
For more information on joining any of these groups, email bill.dyer@ghc.edu; kari.hasbrouck@ghc.edu; ian.dorsch@ghc.edu; or tiffany.maki@ghc.edu
Sponsored