Grays Harbor boasts over 50 miles of beautiful saltwater coastline bursting with mysterious treasures waiting to be found. Beachcombers can find everything from driftwood to shipwrecks washed up on the sandy shores all year round. In recent years, beachcombers have found Nike shoes, and rubber duckies from container spills, glass floats and household debris from the Japanese tsunami, and even a whale carcass this past year in Grayland. Many of these finds have travelled thousands of miles through the winds and currents to be discovered on the ocean beaches of Grays Harbor County.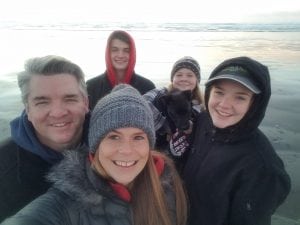 There are researchers that track items like skulls and bones, and messages in bottles, but anyone can join in the adventure. The best treasures can be found after a storm. Go out to the beach on the descending tide, a few hours before low, and follow the wrack line — the swath of debris deposited by the previous high tide. Keep your eyes open for bullwhip kelp, bottles, plastics, glass balls, buoys, and more. From the wrack line, follow the tide out and watch for shells, rocks, agates, and other flotsam.
No matter what you find, it all has a story to tell and you will too.
What to Bring Beachcombing
Be prepared when you hit the beach. Before heading out check your tide tables and make sure you have a first aid kit, snacks, and plenty of water in your car. Bring along your rubber boots and rain gear and consider bringing some good plastic-coated garden type gloves. Of course, you'll want a bag or other container to stow your finds in and a camera for those things that are just too big to take home. Remember, there are some items that cannot be removed from ocean beaches such as live animals, whale bones, and military ordinances. You'll want your camera to collect those.
Other items to consider bringing with you include a flashlight, a good walking stick, and plastic bags for trash. It is always nice to help keep the beaches and ocean clean by collecting the undesirable trash as you go along. This can usually be deposited in collection bins at nearby state parks free of charge. And even if you don't find any cool debris, you can enjoy the feeling of serving the community while taking in the other treasures of the beach like bird watching, and beautiful sunsets. There's no such thing as a bad beach day.
Though you can find treasures at just about any beach here is a list of the best places to beachcomb in Grays Harbor as well as where to stay and eat while you're out.
Cohasset Beach
The Schaffer Island Beach Approach on State Route 105 across from Cranberry Road Winery is a great place to start your hunt for agates and sea glass. Time your arrival to get there about two hours before low tide, as the tide is going out. The lowest tides are best here. Park at the approach and walk north up the beach, keeping an eye out for your treasures. Agates and sea glass are easiest to spot when the sun is out and glinting off their surface. This is also a great place to find rocks that have been smoothed by the surf. Watch for jasper, quartz, and petrified wood. Warm up with a coffee from White Cap Espresso and stay the night at Twin Harbors State Park where they have cabins, yurts, or camping spots available. Other lodging options include cabin rentals on Airbnb and some cute vintage accommodations in Grayland like the Walsh Motel.
Grayland Beach
Grayland beach is an excellent spot for all sorts of collecting. This beach has plentiful sand dollars, driftwood, bullwhip kelp, sea creatures, cool rocks, shells and incredible amounts of flotsam. Because of this, beachcombing gets competitive here, especially after a big storm. Arrive early to inspect the high tide line and follow the tide out. You can drive out on this beach but beware of soft sand at the beach approaches further up the beach – be prepared with some shovels, tow ropes and lumber to help others out if needed. The best shell and driftwood collections are to the south. Take a left from the Grayland Beach approach and head south. Cross a couple streams and you will soon discover the sand scattered with countless moon shells and periwinkles. To extend your adventure, stay at Ocean Spray Beach Resort. It is a cute collection of cottages conveniently located near the Grayland Beach Access. There are several beach themed shops in the vicinity and if you've got a hankering for something sweet you must stop in at the Beachcomber Grocery & Deli where they mix fruit into their swirl soft serve. This is a family favorite.
Griffiths-Priday State Park
This park is north of Aberdeen on Hwy 109. It is a 364-acre park with 8,316 feet of saltwater shoreline, and 9,950 feet of freshwater shoreline on the Copalis River. This is a day use area with restrooms and picnic tables and lots of beachline to peruse. Griffiths-Priday is a great place to look for cool driftwood and shells as well as interesting wildlife. Vehicle access to this beach is closed due to dune erosion but there is a nice boardwalk leading out to the beach. Minutes further north you'll find Iron Springs Resort, a pet friendly resort with another great beach for combing.
Pacific Beach at Moclips
Just past Seabrook you will find Pacific Beach State Park, one of only a few parks that allow camping within 100 feet of the beach. This is a popular location for beach combing so be sure to get here early. Traffic is allowed seasonally on portions of this beach but all-terrain vehicles are not allowed in the park or on the beach or dune areas. Visit Pacific Beach to find driftwood, buoys, some shells and other flotsam. This is also a great place to fly kites and build sand castles, making it a fun place to spend the weekend. The park is within quick walking distance to the shops and restaurants of the Pacific Beach Community where you can warm up with an espresso and some snacks at the Surf House Cafe.
Roosevelt beach
Between the Iron Springs Resort and Seabrook is Roosevelt Beach. It feels a little more remote than the other beaches and is often looked over because of that. However, less traffic also means less competition for the bounties of the sea. The cliffs bordering Roosevelt beach make it the perfect spot to find amazing rocks and large pieces of driftwood. Glass balls, buoys and other high-demand flotsam go unclaimed here because of the small amount of traffic coming through. Be sure to head up to the high-tide line to look for treasures lodged in the rocks and logs. Driving is allowed on this beach for more than half the year but, just like Grayland, you should be prepared to meet soft sand. Even on just a medium tide you will find plenty of treasures on this beach. After filling your backpacks with your trove head on over to Frontagers Pizza to fill your tummies. The gelato is a treasure all its own! It is just up the hill in Seabrook.
Remember, it is always best to check the tide levels and the weather before you head to the beach. Be prepared with warm and weather-appropriate clothing anticipating the wind and cold. Low tides will expose gravel beds and will be the best time to find rocks and agates. Beachcombing after storms will reward you with all sorts of curious flotsam scattered along the wrack line. Above all remember the beach is a place to relax and unwind and beachcombing is a rewarding way to do it. Enjoy the beauty and solitude and opportunity to collect some memories along the way at the beautiful ocean beaches of Grays Harbor.
Sponsored