The short-term goal this season for Elma High School senior Justin Sample is pretty clear cut – win a state wrestling championship. His long-term vision, however, could ultimately end up producing several more state titles wearing the Eagles singlet.

Sample was introduced to the sport as a 6-year-old through an Elma youth wrestling program. Two years later it folded, leaving the now-Elma High School senior and several other young wrestling upstarts scrambling to find something similar.
Nothing materialized.
Sample wants to change all that.
"I just care a lot about it," Sample said. "I was involved with a youth wrestling program here for two years and then no one really wanted to do it, and it kind of fall apart. I want to help pick it back up."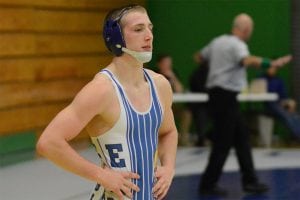 Sample, who does the Running Start program at Grays Harbor College, unwillingly took a brief hiatus from wrestling due to the elimination of the youth club a decade ago, electing to swap out the mat for the racetrack as he began racing quarter midgets.
"I didn't (wrestle) again until seventh grade," Sample said. "I wish I would have been able to have it back then. Elma kids were going to Monte because there was no youth program here for them. I didn't like that, but was the only thing around."
Sample, who finished sixth at the Class 1A state tournament last year in the 138-pound division, hopes to get the new program up and running next fall. He has also expressed his desire to introduce a new freestyle program to the area.
"We have a new (high school) coach and he has a big goal of getting Elma wrestling going again," Sample said about Eagles head wrestling coach Adam Catterlin, an Elma graduate who won the 158-pound 3A state title in 1995 as a junior and finished second at 168 as a senior. "Getting a kids program started back up here will help with that. I think we have something great here, and we have lots of people willing to help me out."
One reason for Sample's passion to grow the local wrestling scene is the fact that his bloodlines have strong ties to Elma. His father, uncles and cousins all competed on the mat for the Eagles.
"I have a lot of pride in it," Sample said about wearing the blue and white Elma singlet. "My whole family has wrestled for Elma. I have cousins that have plaques on the wall. I just look up to all of them. I'm kind of the last of this generation for the cousins. For right now it's just me, but all my cousins are now having kids so they will be up here wrestling eventually."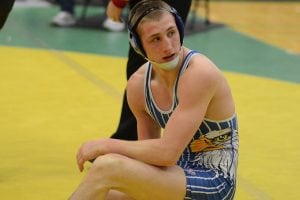 Sample became the program's 121st all-time state placer last year, etching his name alongside several of his family members. Most recently, cousin Aaron Sample was a two-time state champion, winning the 2A 125-pound title in 2002 and the 130-pound title in 2003, while another cousin, Tanner Sample, was a three-time state placer, with the highlight coming in 2014 when he was a runner-up at the 1A tournament in the 126-pound division.
Before he takes the next steps towards kicking off the young wrestling program, Sample has his sights set on adding to his family legacy and becoming the Eagles' 25th all-time state champion this season.
A year after seeing his sophomore campaign end prematurely due to injury, Sample advanced to the 138-pound Class 1A state semifinals last year before losing to Lakeside's Dalton Young, who would go on to capture his fourth state title.
"Best match of the year right there," Sample said about his loss to Young. "It really was a confidence boaster. (Young) is mentally tough. That's where he got me, but I learned a lot from it. It was just a great experience, something I can take a lot from."
Sample and his Elma teammates close out the year at The Rock, a tournament hosted by Vashon Island High School on December 30. The Eagles will also compete at the Hoquiam Invitational on January 6.
"It's my senior year. I'm just giving it my all," said Sample, who wrestles year round and participated in several freestyle tournaments around the county. "Working hard, that's all that matters right now."