Grays Harbor College women's basketball coach Chad Allan admits to being a little leery about placing the order.
Much of that was out of respect for his opponent and knowing just how difficult it is to pick up a road victory in the Northwest Athletic Conference this season. The rest had to do with superstition – just not wanting to jinx anything.
"There was a little of that, yeah," Allan said. "This is something the program has never done before."
In a season colored with numerous historical firsts for the Chokers' program, Allan added another to the growing list – first championship t-shirts.
Grays Harbor College won its first ever NWAC West Division championship after closing out the regular season with a 72-55 victory at South Puget Sound Community College in Olympia on February 28.
The Chokers finished the regular season with a record of 25-2, including a 13-1 mark in divisional play. Both win totals are program highs.
Moments after the players from both teams exchanged handshakes, Grays Harbor returned to the bench where a package had just been dropped off.
"I take care of you, don't I?" a beaming Allan told his equally excited team as they immediately tore into the gift, most shouting out what size they wanted even before it was completely proven there were in fact shirts inside.
When Allan took over as the Chokers' head coach four years ago the team limped through a 0-25 seasons during his first year.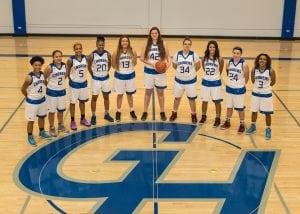 He guided the squad to back-to-back 13-13 records during each of the last two seasons, with both campaigns ending in a trip to the NWAC championship tournament.
"The tradition and the history hadn't been there, and I knew that going in," said Allan, who took over a program which only had four previous winning seasons. "We were trying to get people to buy in. We only had basically seven girls for the first couple years and had to make do with what we had, but the kids have always just put in the effort and this year is just special. It's a special group. They just bought in to working with each other. "
Not only was it the first title for Grays Harbor College, it was also the first winning season for the Chokers since 1992, when they finished the year 17-12, and the first 20-win season since 1991, when they posted a 20-8 record and finished second in the division.
Up until this year that stood as the best finish in program history.
The Chokers will now attempt to add even more history as they head to the NWAC championship tournament for a third consecutive year. Grays Harbor is winless in five tournament appearances, posting a combined record of 0-7.
Allan and his team will find out who they will play next on March 4 when the brackets will be announced for this year's NWAC tournament, which will be held at Everett Community College. The NWAC Sports Network will broadcast the women's selection show at 2:00 p.m.
First and second round games will be held on March 8-9 with semifinals on March 17 and the championship game on March 18.
"We're ecstatic (with the division title), but we have bigger goals," Allan said. "We're proud, we're ecstatic, it's our first league trophy ever in the women's program. I am so proud of them for putting up with me and for putting up with just the grind it takes to get here. They're also getting their grades. They have a 3.2 (grade point) average for the team. We're competitive in a lot of different ways. It's kind of the unselfishness of caring for each other and rooting for each other that has been carrying us on a special ride this season and hopefully we can keep it going."
Grays Harbor sophomore Alexia Thrower closed out her record-setting regular season with a team-high 19 points against the Clippers. Thrower finished the year leading the NWAC in scoring at 26 points a game. She was also second in the conference in rebounds per game at an 11.5 clip.
The Chokers opened the season with an 87-66 loss at Walla Walla Community College then proceeded to catch fire, winning their next 22 games, while averaging 82 points a game – third best among NWAC teams.
Their lone stumble in divisional play game at home against Lower Columbia on February 17 when Grays Harbor dropped a 95-61 contest to the Red Devils.
"Basically knowing what the competition is going to be like and then knowing what you need for your system," said Allan when asked how someone turns a program around so quickly. "Our system is a little different than others. We look for mismatches. We don't have a lot of size. So our girls have to be aggressive and get after it, and that's what they've done this year."