Submitted by Adopt-A-Pet
Meet Merlin!  He is a six-year-old, adorable, soft, big-eyed, ten-pound bundle of sweetness who has successfully lived with other dogs.  Even though he is a little shy at first, he is willing to become your dear friend after proper introductions; especially if those introductions include a tiny piece of hot dog, and a warm lap!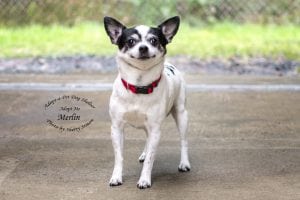 Merlin is looking for a quiet loving home where he can spend quality time with his human, perhaps watching a crackling fire or a television show.  He has found that cats are fun to pester, but they do not seem to appreciate his moves.  If you have further questions or would like to schedule an appointment to meet Merlin in person, please contact the adoption team at Shelton Adopt-a-Pet.  Emails are the preferred method of communication.
Adopt-A-Pet has many great dogs and always need volunteers. To see all our current dogs, visit the Adopt-A-Pet website, our Facebook page or at the shelter on Jensen Road in Shelton. For more information, email thedoghouse3091@hotmail.com or call 360-432-3091.