Kailand Halstead's carry-on luggage was significantly heavier on his return flight back home. A gold medal combined with a couple of high-end awards from an international baseball tournament will do that.

Halstead closed out his summer in a big way, helping Team USA claim the gold medal at the 2018 COPABE U-12 Pan American Championships in Aguascalientes, Mexico, with a convincing 10-2 victory over host Mexico on September 2.
It marks the first time the USA has won the tournament after finishing second in both 2014 and 2016.
"It feels great to return with the gold and sometimes I still can't believe we did it," said Halstead, who is a seventh grader at Miller Junior High in Aberdeen. "[Winning the tournament] was something we talked about. We definitely set a goal to be the first team to win from the USA."
Team USA finished the tournament a perfect 9-0, outscoring the opposition a combined 127-7 and outhitting them 122-20.
"I had the feeling that we were going to win and could back up anything," Halstead said. "It felt great [playing with this group]. They were all nice and knew how to play the game. They all also love the game of baseball as much as I do."
In addition to his gold medal, Halstead was also recognized as the tournament's top hitter and catcher.
"I was surprised and at first I didn't know what the awards were for because they announced them in Spanish," Halstead said about the tournament's closing ceremony where he received both honors. "I feel like I played well. There are things I can keep working on though."
Halstead, who was one of six players on Team USA to start all nine games, hit a staggering .667 during the tournament. He went a combined 12 for 18 at the plate with a team-high six home runs and 16 RBI. He also walked a tournament-leading eight times and posted an eye-popping on-base percentage of .793.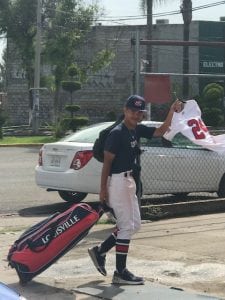 He was one of four members from the U.S. squad to be placed on the all-tournament team. He was joined by teammates Kibru Pam, who was the tournament's MVP, Dean Moss and Brock Thompson.
Paced by Halstead's impressive power at the plate, Team USA hit 39 home runs in the tournament, breaking the single-tournament high of 37, which was set during the 2016 tournament.
Team USA hit .557 over the nine games, which is another single-tournament record, including an astounding .579 (70 for 121) with runners on base and .609 with runners in scoring position.
"I can't say enough about our guys," said USA 12U National Team head coach Todd Fine. "From start to finish, we continued to build every day. We ran the table and went 9-0. These kids have given everything we have asked of them. It is a special group and they have a medal to show for it."
In the gold medal game, the U.S. scored seven runs, including four in the second inning, over the first three innings against Mexico before cruising to a 10-2 victory.
Playing in front of an overflow crowd at CECADI Stadium, Halstead scored on a Thompson single to push Team USA's lead to 8-1. It marked the 21st run Halstead scored in the tournament, which was tops among any player.
"I think it is important to recognize the amazing coaches that team USA had," Halstead said. "They absolutely put a team together that was unstoppable. The other kids on this team were phenomenal. It was definitely a team effort."
The U.S. tuned up for the medal round by routing Nicaragua, 15-0, in just three innings with Halstead going 1 for 2 at the plate.
Team USA punched their ticket to the championship game with a decisive 11-0 shutout of host Mexico. Halstead crushed a three-run home run in the second inning, pushing his tournament best total to six.
Halstead also had a 2-for-2 performance at the plate, driving in two runs and scoring four times, in a 15-2 drubbing of Venezuela and hit two home runs and had a 5 RBI effort in a 15-0 victory over Brazil.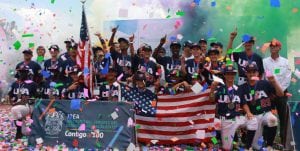 Additional highlights included his two-run first inning homer in the team's 18-0 win over Honduras and a 3-for-3 effort with his bat in a 12-0 triumph over Columbia in a contest where he only needed a triple to hit for the cycle.
"It definitely was a surreal feeling. They absolutely exceeded all expectations. I was so proud of him and all the kids," said Halstead's mother, Andrea Ebling. "There are several things [that were memorable], but the one that stands out is the fact that he took an opportunity and completely nailed it. He played amazing, did not succumb to pressure and excelled at the game he loves."