There was no shortage of firsts for the Elma High School volleyball team under second-year coach Kendra Henry last season.

The Eagles captured their first league title in more than 40 years, going a perfect 8-0 in 1A Evergreen League play. Two of their league triumphs were over rival Montesano, a team Elma had not defeated since 1999.
That's certainly a tough act to follow, but this year's squad has a pretty good idea of what they want to do for an encore.
"State," junior outside hitter Quin Mikel declared being the Eagles' main goal this year. "We want to get to state."
If that occurs, it would mark yet another first for the program as Elma has never participated in the state volleyball tournament.
It's hard to bet against that happening given the way Henry has transformed the program in just three short years.
"Just looking at what we accomplished last year gets us excited for this year," Mikel said. "We were younger (last season). We didn't have as much skill level as we have now. We're improving every practice, every day. Our goals are higher this season."
Elma graduated just two players from last year's squad, one of which was all-state setter Kenna Stoney.
Back, however, is a trio of talented juniors, including all-league first team selection Mikel and second teamers Kali Rambo and Jalyn Sackrider, giving the Eagles plenty of reasons to support their heightened team expectations.
"I think we all are motivated to keep striving for greatness and continue to break our own records," Henry said. "I always tell them that it's not about what everyone else is doing on the other side of the court, it's about what we do on our side and making sure we are doing our best and working our hardest."
Mikel, Rambo, and Sackrider are no strangers to being teammates. All three were on the varsity team as freshmen when the Eagles advanced to the district tournament.
But it goes back even further than that. The three actually all started playing volleyball together in seventh grade. This came after several years of playing basketball together.
"Our communication is great. We've clicked ever since we started playing together," Sackrider said. "We just know where we're going to be on court. We have so much trust in each other."
Last basketball season the three played key roles in helping the Eagles end Montesano's 53-game league winning streak. That victory helped Elma to a share of the league title.
Mikel and her teammates don't plan on sharing anything in volleyball this season. The team's league title last year was the program's first since the early 1970s and they're determined to hold on to it for a little while longer.
"These three are a special group of girls and I have loved having them on varsity with me since I've been at Elma," Henry said. "Thinking back to their freshman year and the team going to districts for the first time to them being more experienced this year, I can't wait to see where this season will take us."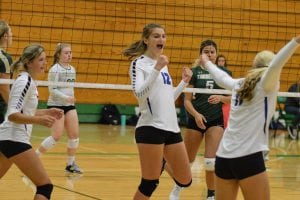 Henry describes Mikel, who was a second-team all-state selection in fastpitch as a sophomore, as a gritty player who will go after anything no matter where it is on the court.
"(Quin) is known for her bloody elbows," Henry said. "During the Black Hills match last year she was diving so much and going after balls that she actually ripped holds in her jersey and bloodied both elbows."
Joining Mikel on the outside is Rambo, a player with quickness who possesses the ability to scramble all over the court, while 6-foot-2 Sackrider is the team's middle blocker.
"Jalyn impresses me by her attitude and always wanting to improve to get that much better," Henry said. "She loves competition and that's what drives her to continue to work hard."
While the three play volleyball and basketball together, they do part ways in the spring with Mikel and Rambo playing fastpitch and Sackrider participating in track and field.
"We used to try to get her to come out for fastpitch. A while ago she played on our team," Rambo said. "It could have been the three of us in all three sports, but I guess two isn't bad."
Things worked pretty well out for both sides with Mikel and Rambo helping the Eagles finish second at the Class 1A state fastpitch tournament and Sackrider placing sixth in the discus and eighth in the shot at last year's state meet.
They now hope to find equal success together in volleyball this year.
"Becoming undefeated league champs last year was a great memory and when those three get excited," Henry said, "you can feel the energy throughout the gym and it always gets others just as excited."