'Tis the season for cocoa, caroling and Santa! You do not have to travel far from your home no matter where you live in Grays Harbor County to find a bit of holiday cheer. With events starting at the beginning on November, there is plenty to keep your whole family busy, from holiday bazaars and tree lightings to concerts and plays.
Central Park PTO Holiday Bazaar
601 School Rd, Aberdeen
November 3, 9:00 a.m. – 4:00 p.m.
Cost: Free
Jump start your holiday shopping at the Central Park PTO Holiday Bazaar. There will be many local vendors with handmade as well as commercial gifts for everyone on your list. Food will be available for purchase and even a Seahawk gift basket raffle! Santa will also make an appearance. Vendor table fees contribute to field trips, assemblies and extra items for the Central Park Elementary.
Trinkets & Treasure Holiday Bazaar
Hoquiam Elks Lodge #1082
624 K St., Hoquiam
November 3, 10:00 a.m. – 4:30 p.m.
Cost: Free
The Trinkets & Treasure Holiday Bazaar fun bazaar features vendors, of course, but also photos with Santa, gifts, treats and lots more. Free hot cider and cocoa will be available to help you celebrate the holidays in Hoquiam.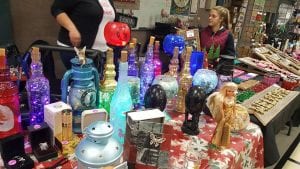 Channel Point Village Holiday Bazaar
Channel Point Village
907 K St, Hoquiam
November 10, 10:00 a.m. – 3:00 p.m.
The Channel Point Village Holiday Bazaar will have handmade items, unique crafts, baked goods, local and national vendors, free coffee and cocoa, and prize drawings. It's a great place to find that special gift for the person who has everyone.
Quinault Winter Craft Fair & Bake Sale
Lake Quinault High School
6130 US Highway 101, Amanda Park
November 10, 10:00 a.m. – 3:00 p.m.
Cost: Free
Hosted by the Lake Quinault Community Circle, the Quinault Winter Craft Fair & Bake Sale will have everything from hand-crafted jewelry and woodwork to fresh produce and honey-baked goods perfect for holiday dinners. There will be music and door prizes as well.
Elma Grange Holiday Bazaar
4th and Waldrip, Elma
November 16-17, 9:00 a.m. – 4:30 p.m.
Cost: Free
The Elma Grange Holiday Bazaar with have gifts and treats a plenty for you to get your holiday shopping down locally. Find soaps, wind chimes, Mary Kay Cosmetics, Scentsy, wood work and more. Browse the vendors, eat wonderful food and enjoy the benefits of a small-town holiday. Lunch money goes to the Elma Grange Scholarship Fund.
40th Annual Country Christmas Bazaar
Grays Harbor Fairgrounds
32 Elma McCleary Rd, Elma
November 17, 9:00 a.m. – 5:00 p.m.
November 18, 10:00 a.m. – 3:00 p.m.
Cost: Free
The 40th Annual Country Christmas Bazaar is full of fun for everything with over 200 booths of hand-crafted items, from pottery and holiday décor to vintage and baked goods. They will have furniture, gourmet foods, fused glass, wreathes, clothing – anything you can think of! Parking is free as well and lunch will be available.
Turkey Trot 2018
Monte Fitness Center
210 S Main St, Montesano
November 22, 9:00 a.m.
Cost: free, cash donations accepted for the Montesano Food Bank
Burn some calories so you can eat even more Thanksgiving dinner by attending Turkey Trot 2018! Sign-in at 8:30 a.m. and then get ready to trot, run or walk the 5k, which starts and end at the Monte Fitness Center. Go as far as you can or want to, then return, it's all in good fun for a great cause.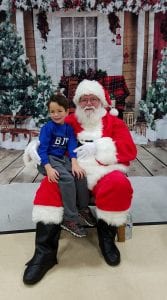 The Great Tree Lighting
Seabrook
November 23, 5:00 p.m. – 6:30 p.m.
Cost: Free
Get ready for the annual tree lighting the day after Thanksgiving in Seabrook.  Sing holiday songs, meet Santa, see elves (on bikes!), and bring a plate of cookies for the cookie social. There will be a hot cocoa bar as well.
Classic Holiday Movies
7th Street Theatre, Hoqiaum
The 7th Street Theatre will be playing some of the most beloved holiday movies this season including Scrooged (November 23-24 at 7:30 p.m.), National Lampoon's Christmas Vacation (December 1 at 7:30 p.m.), and It's A Wonderful Life (December 15 at 7:30 p.m. and December 16 at 2:00 p.m.). Whether you are in the mood for a heart-felt classic or to laugh off some holiday stress, they have a movie for you escape the wet weather with.
"Looking at Christmas" Play
Driftwood Theatre, Aberdeen
November 24, 30, December 1, 7, 8, 14, 15, 7:30 p.m.
December 16, 1:30 p.m.
This fun play at the Driftwood Theatre is about an aspiring writer and struggling actress who meet while looking at holiday windows that suddenly come to life! Look for twists such as Scrooge and Tiny Tim arguing about being portrayed as zombie. This sweet, slightly twisted romantic holiday is perfect for those looking for something new this holiday season.
Winterfest 2018
Aberdeen
November 30 – December 1
Cost: Free
Put on the Aberdeen Revitalization Movement, Winterfest is a great way to really get in the holiday spirit after Thanksgiving. They will tons of activities and old-fashioned family fun for the whole family. Friday evening pet and have pictures with two of Santa's reindeer near Zelasko Park. Caroling, a tree ligting and more will all happen. On Saturday, enjoy breakfast with Santa, a holiday market and more.! This year a new addition to the fun is the gingerbread house contest. Find times and more details on the Winterfest 2018 Facebook page.
Santa by the Sea
Westport
December 1, 10:30 a.m. – 3:00 p.m.
This fun event will be a highlight to the kids – Santa comes to town aboard a US Coast Guard vessel and then is escorted to the Destruction Island Lighthouse Lens Exhibit Hall at the Westport Maritime Museum. Visit with Santa, take a photo, and then party with pirates in McCausland Hall. Free refreshments, activities and prizes.
Santa Breakfast and Tree Auction
McCleary VFW
December 1, 8:30 a.m. – 11:00 a.m.
This Santa breakfast and combined tree auction is a fundraiser for the McCleary Bear Festival. Eat breakfast, get a photo with Santa and bid on a decorated Christmas tree!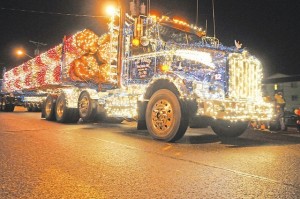 Festival of Lights
Montesano Washington
December 7-9
There is so much to do at the Festival of Lights, you may want to go attend more than on day. Activities include a craft fair, pancake breakfast and auction, a new show called Jungle lights, food, bus tours of Christmas lights and of course the Grand Parade! Don't forget cookies with Santa and live music to make your spirits bright. Follow the Festival of Lights on Facebook for updated information at becomes available.
Six Appeal Concert
Bishop Center for the Performing Arts, Aberdeen
December 8, 7:30 p.m.
Cost: Adults, $18; Seniors, $15; Students $10; under 12-years-old, free
This fun holiday concert is a Holiday Ugly Sweater Part put on by the award-winning group, Six Appeal. They encourage you to wear your ugliest holiday sweater and come listen to their a cappella renditions of decades of holiday classics.
Grays Harbor Dance – The Polar Express: Believe
7th Street Theatre
313 7th Street, Hoquiam
December 8-9, 2:00 p.m. – 4:00 p.m.
Cost: Free with food bank donation
Come witness the magic of The Polar Express performed by Grays Harbor Dance. The entire family will enjoy this amazing recital that's perfect for the holiday season. Don't forget your food bank donation.
3rd Annual One Stop Christmas Shop
McClearly VFW
December 8, 10:00 a.m. – 3:00 p.m.
December 9, 2:00 p.m. – 4:00 p.m.
Hosted by Help the Vets of VFW POST 5564, the One Stop Christmas Shop is a wonderful event with over 20 vendors sharing their unique gifts with your family. There will also be raffles and lunch to purchase. Money from vendor fees, raffle donations and food purchases will go towards fixing their plumbing and adding an outdoor barbecue area to the VFW Hall.
Breakfast with Santa
Town Hall, Seabrook
December 9 & 16, 9:00 a.m. – 11:00 a.m.
Cost: $15 for adults, $8 kids under 12- pay at the door.
A Christmas tradition for many, come to Seabrook for Breakfast with Santa! Write him a letter, get your photo taken, paint an ornament and of course, eat your fill of the Mill 109 breakfast buffet.