The soft earth sinks as you stick your shovel into it, lifting out just enough to make the right sized hole for the sapling. Lowering down into the dirt, you carefully place the tree in the hole, pushing the soil over to carefully cover it. Then you travel down the creek bank, taking a deep breath of fresh air as you go, to see how the ivy pulling is coming. What a way to spend an afternoon you think, as you see the salmon you are helping make a nest in the gravel right near your feet. And tomorrow you get to go outside again, this time with a group of school kids at the beach. And next week you are working at a festival booth. It doesn't get much better than this. If this sounds like your dream job, you are in luck, because the non-profit Grays Harbor Stream Team is looking for a part-time coordinator who will actually get paid to help carry out their mission of preserving our water ecosystems and protecting the animals, especially the salmon, that call our waterways home.
"Our work promoting sustainable water resource management helps address the well-being of the natural resources that are critical to the economy and citizen's wellbeing," says Kirsten Harma, Watershed Coordinator. "This work is important as a way to educate the communities of Grays Harbor to create an environment where people feel empowered to become stewards of their waterways and communities."
In its 10th year, the Grays Harbor Stream Team's primary function is to "increase community involvement in environmental stewardship, by conducting volunteer stream restoration projects and environmental education in the lower Chehalis watershed and Grays Harbor area." As coordinator, you will get to facilitate and plan these incredibly important, but also fun, activities. You will recruit new volunteers; deliver environmental education in the form of field trips, presentations, and appearances at festivals and events; organize and help out at work parties to remove invasive species and trash around streams and on conserved land; and plant trees and shrubs. All of this is part of restoration projects you will develop and carry out in partnership with other Grays Harbor organizations, including Chehalis River Basin Land Trust, Chehalis Basin Partnership, Grays Harbor Historical Seaport, Grays Harbor College Fish Lab, Chehalis Basin Fisheries Task Force, and the Grays Harbor Conservation District.
Since being revitalized in 2016 by a $60,000 grant from the Rose Foundation, the Stream Team has held 23 restoration events where 365 volunteers have removed thousands of pounds of trash and invasive plants as well as planted hundreds of trees. Furthermore, just under 2,000 people have participated in educational activities at community events and school field days.
One thing's for sure, no two days at this job will be the same! While your position will be "housed" at the Grays Harbor Historical Seaport in Aberdeen, you will work throughout the lower Chehalis River watershed and Grays Harbor area – no boring desk job here! As an example, over the past year and a half the Grays Harbor Stream Team held 12 restoration events in the following locations, Alder Creek (3), Lake Sylvia State Park (2), Lake Swano, Gaddis Creek/Eaton Creek/Taylor Creek/Taylor Ferry Road/Harstad Creek, Fry Creek, Bottle Beach State Park, Burrows Road, Grays Harbor Historical Seaport, and Wishkah Gardens, says Harma. They also worked with three schools and attended four community events.  A perk of the job, mileage is reimbursed.
Katie Lutz, who was the Coordinator last year, loved her position and the activities she was able to be a part of that were all in a day's work. From picking up trash at Bottle Beach with a group of school kids, teaching them about ecosystems and good stewardship in the process, to planting trees and pulling ivy, Lutz enjoyed it all. She also organized presentations at the local libraries and taught kids about the life-cycle of salmon. "Being Coordinator of the Grays Harbor Stream Team is a wonderful opportunity to bring together different local groups to make a difference here in our community, especially when introducing young and old alike to the amazing natural environment that is just outside our door and the important work of protecting that for generations to come," Lutz shares. Lutz is continuing on in the hopes of teaching English as a second language; her work with the Stream Team gave her valuable skills that will help her be successful with her goals.
If you have a passion for the environment and our local community, are able to work independently and want to improve your skill set, this is the position for you. Harma shares that past coordinators have gained knowledge managing finances, coordinating/event logistics, writing, design/layout, and overcoming obstacles. All of these are great life skills, she adds. And of course, the coordinator will learn a great deal about the environment, including stewardship and ecosystems.
This is a part-time, one-year contract position, averaging 20 hours per week, with the possibility of extension based on funding. Applicants should have a background and interest in environmental conservation, with experience conducting educational and volunteer activities with youth and adults. Must have reliable transportation and a laptop. Applications are due January 25. Interested applications should also read this  job description for more information. Send a resume, cover letter, and names and phone numbers of three references to Kirsten Harma at kharma@chehalistribe.org. Anticipated start date is February 1, 2019.
"This work is important as a way to educate the communities of Grays Harbor to create an environment where people feel empowered to become stewards of their waterways and communities," says Harma.
Join the Grays Harbor Stream Team and work toward a better tomorrow every day.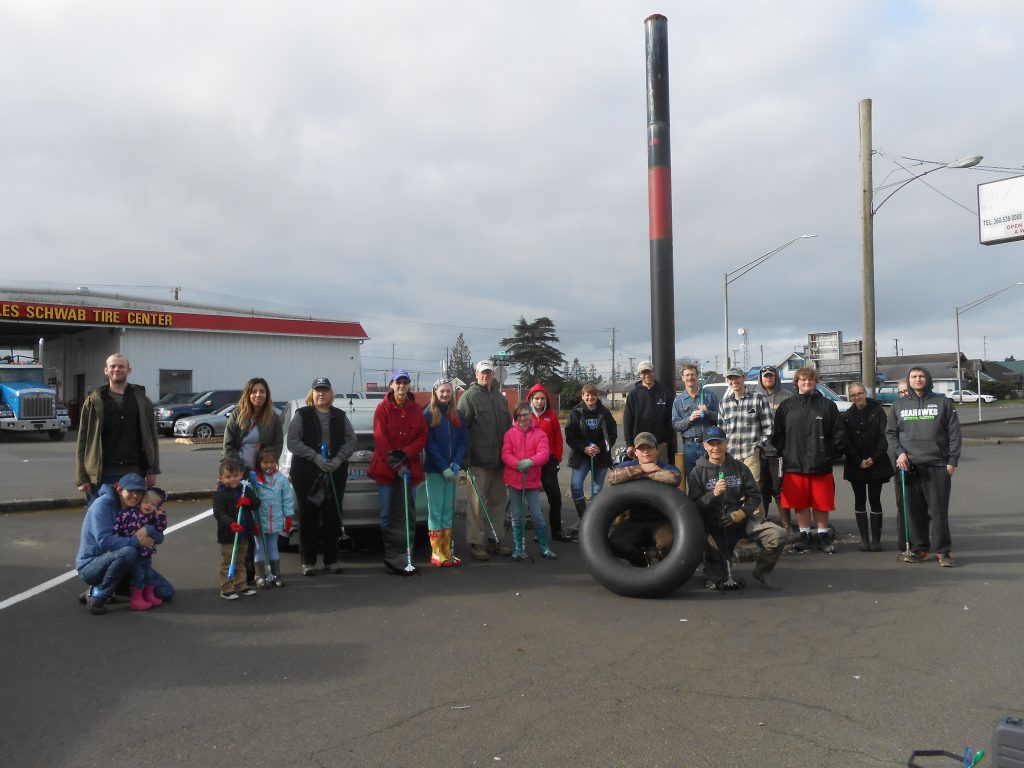 Sponsored