Ben Dublanko is a dynamic scorer – a playmaker able to create his own shot no matter who's defending him.

He can pile up the points by hitting from well beyond the 3-point arch thanks to his range or he can successfully attack the rim despite giving up size and height to the opposition.
The Aberdeen High School senior is hardly just a scorer on offense though. He is a facilitator. He is someone who can be equally effective setting up his teammates as evident by the fact that he has led the Bobcats in assists for three consecutive years.
Dublanko's biggest career assist, however, never appeared on the stat sheet.
It occurred four years ago when Dublanko and Javier Bojorge were freshman. As the only first-year players who split time between varsity and JV, they were constantly matched up against older players, a lofty task on the court for any 15-year-old.
Dublanko loved the challenge.
"I saw it as an opportunity to get better and learn from the older guys," Dublanko said. "I don't want people to go easy on me because if they're going easy on me I'm not getting anything out of it."
Dublanko got his wish as there was no easing up from the varsity players that year. They pushed him and Bojorge every time they stepped on the court, and while Dublanko saw the rough play benefitting himself in the future, Bojorge initially had a difficult time with it.
"Every open gym we'd play against the seniors and they would be pushing me around," Bojorge remembered. "I didn't really have a lot of confidence during my freshman year. They would be in my ear all the time and it would get to me."
The other voice inside Bojorge's head came from Dublanko, and he was preaching something entirely different to his friend.
"Ben was always there telling me I was good and keep doing what I was doing. He just kept telling me that and ever since then I've been working hard," Bojorge said. "Ben's the one who really put the idea in my head that we could really do something."
Dublanko's prediction was spot on. Four years later, the duo comprises one of the best backcourts in the 2A classification and has Aberdeen thinking playoffs.
After a strong start to the season, which saw the Bobcats win seven out of their first eight games, Aberdeen has positioned itself to secure a berth into the 2A District 4 tournament for the first time since 2015.
"This is the year. This group is a special group and there's no one I'd rather take the floor with than these guys," said Dublanko, who scored a season-high 41 points against Hoquiam this year. "It's a family. It's the first team I've ever been on when it felt like a family top to bottom."
The 5-foot-10 Dublanko is one of the 2A Evergreen Conference's leading scorers, averaging 22 points a contest, while adding nearly 5 rebounds and 5 assists per game.
"Ben never ceases to impress me," Bojorge said. "He's putting shots up over bigger guys, hitting these crazy fadeaways. He's getting to the rim and has the vision of an eagle. He just does everything."
Head coach Mark Buckman saw Dublanko's potential when he took over the program four years ago, making him the only freshman who saw varsity minutes – albeit at the minimum – that year.
"It was more of a case of him getting his feet wet freshman year," Buckman said about his decision to move Dublanko to varsity early in his career. "I felt he needed to play against bigger, stronger kids and practice was going to be more valuable for him that first year than anything else."
The next year Dublanko became a starter. He hasn't missed a game since.
"I still remember the first game he scored 20 points as a sophomore," Buckman said. "He kind of broke out scoring wise that game and his confidence just grew. He really understood what he was capable of doing offensively after that."
Dublanko is quick to credit Bojorge has helping him out offensively as well due to the fact that he has gone up against his teammate for four years now.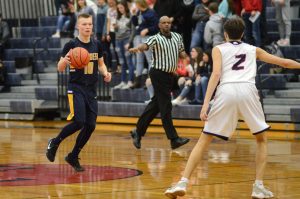 "Javier is the best defender in this league," Dublanko said. "Going against him is definitely a challenge. I've played a lot of basketball and I've never gone against someone who is as tough to score on as Javier. Without question, he's made a better player."
Bojorge isn't just all about defense though as the 6-0 guard also averages 16 points and 4 rebounds a game, making him and Dublanko one of the highest scoring tandems in the state.
"We felt this was certainly the year that we could strike a little bit," Buckman said. "Ben and Javier have been incredible for our program in both their play and leadership. Our third guard, Giovanni Pisani, has been great for us and the supporting cast has been excellent. It's been a very positive experience to this point and we hope to carry that over into league play."
It appears all those tough days of open gym play during their freshmen year is certainly paying off.
"It's been a grid ever since," Bojorge said, "but I appreciate every single step of the way here and I'm looking forward to the rest of the season."