Surgical site infections account for one-fifth of all infections acquired in hospitals. Most infections are minor, but they can become life-threatening. Fortunately, Grays Harbor Community Hospital (GHCH) has demonstrated an impressive rate of infection control in the operating room and beyond.
Nationwide, surgical site infections affect an estimated two to five percent of patients who have inpatient surgeries. At GHCH, however, the surgical site infection rate averages less than one half of one percent. Rosemary Chapman, Operating Room (OR) Director at GHCH, watches those numbers closely.
"90 percent of my job description as OR Director revolves around disinfection, sterilization procedures and making sure that everything points toward low hospital-acquired infections," explains Chapman. By all counts Chapman is doing her job well.
Multi-pronged Approach
Chapman and the OR staff have found success with a multi-pronged approach to infection control. At the outset, patients are provided with pre-operation education. For example, they may be given antiseptic chlorhexidine cloths to use when showering to kill bacteria on the skin. In addition, patients are screened for existing infections.
Because the Aberdeen area experiences a higher than usual rate of methicillin-resistant staphylococcus aureus (MRSA), the hospital began testing every critical care patient for the infection. When the staff sees a positive test, they isolate and treat immediately. This has dropped MRSA rates not only in the hospital but also in the community.
"One of our orthopedic surgeons began doing tests before his patients even come into the hospital," says Chapman. "If they test positive for MRSA, he starts treatment before they have surgery. That way, they will be less likely to get an infection in the surgical site."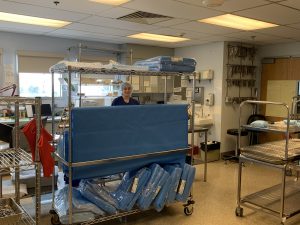 Once any existing infections have been addressed, and the patient is ready for surgery, the staff conducts a "time out." This involves going through a meticulous checklist to make sure everything is in order, that all members of the team are prepared and that sterilization procedures have been followed.
The team also completes a post-surgery checklist, making sure all sponges, instruments and needles have been accounted for and that critical communication among team members has occurred prior to the patient leaving the operating room. There are also detailed checklists for specific procedures, such as the insertion of a central line.
Finally, the hospital has recently begun to practice a program of antibiotic stewardship. This ensures that appropriate antibiotics are used for specific conditions and infections. It reduces resistance to antibiotics and means when used they work more appropriately.
Proven Infection Control Results
Teamwork is a critical element of infection control. The fact that GHCH is a small hospital makes that teamwork even easier. Everyone buys into the process, from techs to nurses, anesthesiologists and surgeons. Consequently, communication is open, and any issues are addressed quickly. The results speak for themselves, and they extend beyond the surgical suite.
Infection rates are low across the board, from surgical site infections to bloodstream infections and pneumonia. In fact, the hospital has not experienced a case of ventilator-associated pneumonia or a central line infection in three years. Hospital-acquired bacterial infections are also rare here.
"When I first got here 13 years ago, we were averaging two to three cases of C. Diff (a common bacterial infection) that were transferable from patient to patient," says Chapman. "For over a decade now, we haven't had one serial transmitted case in the hospital. We are very careful about that."
Patients: A Critical Part of a Successful Team
Patients form an integral part of the surgical team, and there are a number of steps patients can take before and after surgery to help reduce the risk of surgical site infections. These include:
Discuss any other health problems, such as diabetes, with your surgeon before surgery.
Quit smoking. Patients who smoke are statistically more prone to infections.
Bathe or shower before surgery, using chlorhexidine cloths, if directed.
Avoid shaving near the surgical site within several days of surgery.
If your physician has recommended antibiotics, take them as directed.
Remind visitors to wash their hands and to not touch the surgical site or bandages.
Make sure you understand how to care for your wound at home. Be sure that your hands are clean when you do so.
Know the signs for infection. These include inflammation, redness, heat and pain.
Know who to contact if you experience any complications.
And when you show up for surgery, rest assured that the surgical team is taking all necessary steps to give you the best outcome. They are working hard to keep you infection-free and set you on the road to recovery.
Sponsored