Elma is conveniently located between Washington's Capitol and Aberdeen, making it a perfect stop with your dog, whether on a road trip or just looking for a new trail to sniff. There are multiple trails and expansive parks that are both scenic and dog-friendly in Elma. Unsure of where to stop in Elma to let your dog burn off some energy after a long car ride? Explore this list of fantastic places to walk your dog in Elma that will bring a smile to everyone's face.
Schafer State Park
Elma's dog-friendly Schafer State Park is a beautiful,113-acre camping park located near the Satsop River. Pitch a tent, bring the dog bed, and relax for the weekend in this tranquil paradise. Historically, Schafer State Park dates as far back as 1872. The park is now recognized as both a state and national historic site, meaning that the ground and onsite facilities are well maintained. While you're visiting the area, your dog will love trekking on the two-mile hiking trail that instantly connects visitors to the natural side of the city nestled in the lush forests of the Pacific Northwest.
Along with the scenic hiking path, be sure to bring your furry friend to the banks of the Satsop River. The crystal-clear waters are fantastic for both fishing and allowing man's best friend to take a swim, play fetch and cool off. Plan to spend an entire day taking in all that this park in Elma has to offer both you and your dog! A Discover Pass is required for Schafer State Park.
Chehalis Wildlife Area
Adventurous dogs will love taking a trip to the Chehalis Wildlife Area. The natural area is maintained as a waterfowl habitat, but is also used for recreation. Tread lightly through the area while keeping your dog on a leash, as the majority of the land is open wetland, riparian shrub habitat, or meadow/field habitat. Trails are available for walking your dog, although be wary that flooding of the area during wet seasons may restrict access.
Capitol State Park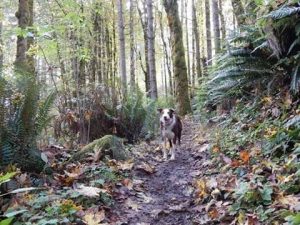 Although the Capitol State Forest technically stretches into both Thurston and Grays Harbor County, visitors and dogs will be happy to know that over 90,000 acres reach into the City of Elma. This is a beautiful recreational destination that will be loved by all who are hoping to give their dog a rewarding day in the wilderness.
What better way to spend the day than with a two mile jaunt to the lovely Porter Falls. Dogs of all sizes will love to splash and play in the picturesque waterfall. There are some hills along the path, but nothing too steep. The best time to visit the falls is just after a heavy rainfall, the extra water makes the waterfall impressively fast, so pack up Rocky and go for a hike!
Vance Creek County Park
While visiting Elma, be sure to add dog-friendly Vance Creek Park to your to-do list. This large park makes for a fantastic place to take your dog for a leisurely walk. The park is named after Joseph Alexander Vance, who founded the Vance Lumber Company in the late 1800s. On a warm summer's afternoon, dog-friendly Bowers Lake will quickly cool off your canine companion. Additionally, Bowers Lake is an ideal place to cast a line and make memories relaxing with your loyal companion by your side.
Gladys Smith Park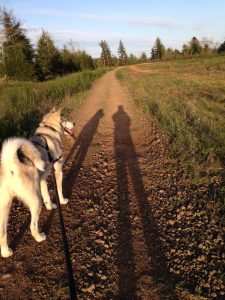 You're sure to be glad when you take your dog on a visit to dog-friendly Gladys Smith Park! Also referred to as the Lloyd Murrey Park, Gladys Smith Park is named after the individuals who provided the land. As Elma's largest park, comprised of roughly 10 acres, visitors will have a thrilling day walking their dog through the easily accessible area. Elderly dogs and puppies will both be able to enjoy some fresh air without putting too much strain on themselves.
Located near Elma city center, Gladys Smith Park provides a fun opportunity to bring your dog along to watch baseball, softball or soccer games, or perhaps try your hand at a sport when a local game isn't taking place. The shaded areas are also fantastic for picnicking, letting your children enjoy the playground facility and throwing a frisbee or tennis ball for your dog.
Sponsored