By Kristine Lowder

Toss a line into a pond at Vance Creek County Park in Elma and you're likely to reel in a perfect rainbow trout. Toss some time into the park's history, and you're in for a real treasure hunt.
A cursory stroll around the park reveals two names closely linked to its origin: Vance and Bowers. One was a lumberman-turned-real estate magnate from Quebec, Canada. The other was a homegrown Hoquiamite known for his civic involvement and benevolence.
The park's namesake, Joseph Alexander Vance, founded the Vance Lumber Company in Malone in the late 1800s. His father, John, was born in Ireland. His mother, Christina Elder, was born in Canada. Joseph himself was born in Quebec, Canada. He immigrated to Parkland, near Tacoma, in 1890.
Vance is described as a "wealthy Seattle lumberman and capitalist." His name appears briefly in The River Pioneers: Early Days on Grays Harbor (Edwin Van Syckle, 1982), and On the Harbor, (John Hughes and Ryan Teague Beckwith, 2001). According to both, Vance was a "lumberman from Malone" who ran in and won a 1919 port commission race. His occupations were "capitalist" and "Vice President, Real Estate Operations" according to the 1930 and 1940 censuses.
Before that, Vance built and operated a small mill between McCleary and Elma. The Vance saw mill was the town's principal business in the early 1900s. This enterprise was the start of the Vance Lumber Company of Malone.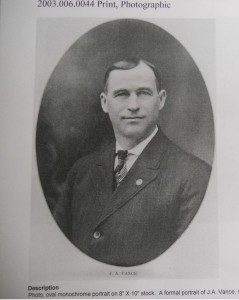 Vance later shifted his interest to Seattle business properties. He became one of the Northwest's largest operators of commercial properties, according to his obituary in The Seattle Times. He built the Joseph Vance Building, the Lloyd Building, and the Vance Hotel in Seattle. He later acquired the Hotel Camlin, also in Seattle. The real estate empire Vance built still exists. Today it's called the Vance Corporation.
Joseph and his wife, Margaret Mackey, had four children: Helen, Lloyd, Earl and George. He survived all of the children except George. Lloyd died in 1943 at the age of 36. Earl drowned at the age of 21 in an ice-skating accident. Helen passed away in 1940. She was 31.
The lumberman-turned real estate magnate resided in the Vance Hotel (now called the Hotel Max) in Seattle and had a summer home at Lost Lake. Joseph Vance passed away on June 30, 1948, in Shelton, just two days after his 76th birthday. He left an estate estimated at $600,000.
The highest grade Joseph Vance ever completed was third grade. The park was named for the prominent lumberman with business roots in Grays Harbor.
What Joseph Vance was to business and industry, Edgar Bowers was to business and philanthropy.
Located adjacent to Highway 12 and just west of Elma near the Elma Municipal Airport, Vance Creek County Park took some ten years to become a reality. It held three large "gravel pit ponds" or lakes. The master plan called for about 60 acres south of the Wenzel Slough Road to be turned into a park. It included possible expansion into a 140-acre park, where "swimming, fishing, and nature hikes would be emphasized," according to a July 30, 1985 article in The Vidette.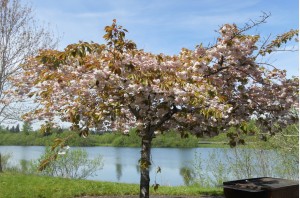 It started with the generosity of Edgar Bowers. Park visitors will recognize the name. "Bowers Lake," also called Vance Creek Pond #1, is the first pond on the north side of Wenzel Slough Road. Lake Inez, also called Vance Creek Pond #2, is next to it.
A lifetime resident of Hoquiam, Bowers established the Bowers Asphalt Company (later Interstate Asphalt) in Aberdeen, paving between Port Angeles and Ilwaco. He did many civic paving projects including the roadways of Sunset Memorial Park in Hoquiam, the Polson Museum and the old YMCA parking area. Interstate Asphalt sponsored little league and Babe Ruth baseball teams as well as slow pitch. It also paved the rubberized track at Hoquiam High School. Bowers himself gave tickets to athletic games and other events to senior citizens. He was one of the driving forces behind the acquisition of Hoquiam's 7th Street Theatre.
Bowers was named Citizen of the Year by The Daily World in 1972. The month of May 2006 was proclaimed "Ed Bowers Month" in Hoquiam, according to Bowers' obituary. Bowers passed away on January 17, 2008 at age 90.
Even with Bowers' land donation, the road to Vance Creek County Park itself – and Bowers Lake – had plenty of twists and turns. Funding was a big issue.
A July 30, 1985 article in The Vidette says the county commissioners adopted a long-range master plan "to develop a water recreation site near Elma." Bids were let. They came in too high. An unexpected windfall helped bridge the gap, courtesy of the National Association of Counties.
The NAC took the federal government to court after it refused to pay the final quarter of revenue sharing allotments when the program was on the verge of elimination. As a result, the county was to receive $27,300 as its share of the funds.
Then-County Commissioner Mike Murphy recommended that the Public Works Department staff scale down construction for the park and add $25,000 from the $27,300 coming in from the NAC lawsuit. This meant a total of $175,000 available for the project.
Five bids came in in September of 1987. Two were below the $175,000 watermark. Banaka Trucking Company of Elma was eventually awarded the construction contract.
Vance Creek County Park is still recognized as a valuable asset by county officials. It's located in District 1, which is County Commissioner Wes Cormier's district. The commissioner says he and his family enjoy the park and its family-friendly feel. "It has been and continues to be a great place for families to congregate and enjoy the outdoors. My wife will go there with the kids when it's nice out. We've also been there to swim," says the father of three.
Kevin Varness, Director of Public Services, says, "Vance Creek Park is a great asset for County residents and visitors to our area.  When the weather gets nice, it is well used for family outings including the swimming beaches.  It has nice big open areas for kids to run around and a playground.  We have two covered picnic areas.   Many folks come to fish. The larger lake is for everyone and has a boat launch (not gas motors). The smaller eastern lake is reserved for seniors and youth.  Both are stocked by the Washington State Department of Fish and Wildlife.  It is also just a nice place to take a walk with friends, family or your dog (leashes, please) on the paved pathway around the lake."
Varness says that although resources are "spread thin around the county," he hopes that a few picnic tables can be added this year as well as some trail and playground improvements. Varness adds, "We have a lot of groups that use the park for activities and larger events can be arranged though the County Commissioners Office."
Vance Creek County Park was officially dedicated in May of 1988. Russell Gordon, grandson of Joseph Vance, was at the ceremony. Said Commissioner Murphy, "This is the culmination of a dream that the commissioners have had for several years and now it has become a reality. We are hopeful that people will treat it as something they own, for they surely do."
Murphy's hope still rings true today. Especially on a perfect summer Saturday when the wind flutters the trees, the sky pours out a perfect curve of blue, and the fish are biting.
Thank you, Joe Vance and Ed Bowers.
Author's Note: I am indebted to Mary Thornton of the Hoquiam branch of the Timberland Regional Library, John Larson of the Polson Museum, and Grays Harbor County Public Service Director Kevin Varness for much cheerful assistance with the research of this article.