There are countless benefits to running, from gaining strength and endurance to reducing stress levels. For several decades, the Grays Harbor Running Club (GHRC), also known as the Grays Harbor Harriers, has been a source of companionship, encouragement, and traditional tasty potlucks for many locals.

Brian McGregor, a chiropractor by trade and a writer and artist at heart, has been a part of the GHRC for 20 years when he first started his running career. In 2010, he took over as the host of the club with his wife, Joy McGregor, when the previous hosts and well-known Harborites, Frank and Pat Gordon, were ready to retire as the club's managers. The McGregors ended up taking it on since they were in the best location and had ample space.
"I was also thinking if I volunteer, I have to go every week," Brian jokes.
Brian says that something people often misunderstand about the club is that people think they need to be in shape and be seasoned runners when they join, but that is not the case. Anyone and everyone is welcome at all fitness levels.
"When I first started, I thought, 'I'm going to join this running club, but I've got to get in shape first,' just like everyone else did," Brian says. "No, you come to the club to get in shape, because we've all been there."
Brian first started running at age 40 when he decided he wanted to make major improvements to his overall health and has not stopped running since, reaping many benefits from his dedication to the activity.
Every Monday, year-round and rain or shine, the McGregor's home in Aberdeen is where club members meet and leave at 6:00 p.m. sharp for an hour-long run around town. The runs are all limited to one hour so that everyone can enjoy the potluck before it gets too late in the evening.
There are all kinds of runs that the group does, with the shortest one being about four miles and the longest one being about eight miles. After the run, everyone reconvenes at the McGregors' home for the potluck dinner where newcomers are welcomed to just check it out at first and then bring a dish at a later time.
"Joy always makes sure we have something good, a main course," Brian says.
For those looking only to walk, there is a place in the GHRC for them, too. There have always been walkers in the club and each week if there are walkers, they will go out as a group and members will find Joy there, too.
"I like being able to get out," Joy says. "It's a specific reason to head out and get some fresh air."
From making new friends to reaching fitness goals, the club has helped a lot of people to stay on track.
"The togetherness is a big deal. It's never fun to run by yourself," Brian says. "Every runner makes every other runner better. Because some nights you feel good and you pull other people along and other nights somebody pulls you along. It's nice to have company and encouragement."
About seven years ago, another local running group called They Ran That-Away! (TRTA) was established by Steve Wells who lived in Grays Harbor at the time but has since moved to Olympia. Some members of the GHRC are also active members of the online based TRTA group, including Brian, who describes it as GHRC being more traditional with a set day and time and the TRTA being internet based with high interactivity and flexibility with a younger generation members.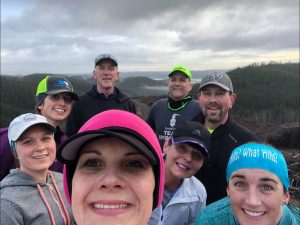 Brian says that the TRTA group is a great resource and that Steve has never had to pull a negative post even when they get 400 posts per month and 12,000 responses on average.
"No matter how fast or how slow, we really support people," Brian says.
The TRTA group runs all around Grays Harbor and often post updates within the group including photos and stats from their run. The group also currently has 674 members with more than three quarters of the group being women.
"We'll meet in Montesano on a Saturday and we'll run up to Friends Landing and back and that's 15 miles," Brian says. "And again, three fourths of them are girls and these girls are amazing, they really are, they just keep going and going."
The GHRC is open to people of all ages, but new members are encouraged to bring a friend who is able to keep a similar pace. It's requested that all children have supervision.
For more information, the McGregors can be reached at 360-532-5165 or contacted on the Grays Harbor Running Club Facebook group page. For more information on TRTA, visit the They Ran That-Away! Facebook group page.
5 Tips for Beginners:

Buy Good Shoes (and good gear; socks, shorts, and shirt)

The shoes that you end up with may not be what an "expert" at a shoe store recommends, but rather what works for you. And blisters are no fun.

Start Slow and Short

Build your speed and distance. We all want to run far and fast, but give it time or you may end up injured.

Set a Goal

A specific goal: couch to 5K, 10K, or half marathon at a specific time and date tends to motivate.

Find a Partner of Group to Run With

While you can do this by yourself, running with others helps keep you motivated and accountable. The social aspect of a group is an unexpected bonus. And these are the people that have already done what you are trying to do. They have more advice than you may want to hear.

You Can't Outrun Your Fork

Most people decide to start running because they want to get in better shape. If you don't change the way you eat, your results are unlikely to match your hopes.

Tips courtesy of Brian McGregor