Dogs are not only our pets, but a part of the family. As much as we love relaxing with them in the comforts of our home, it's important to give them the exercise that they need and crave. Thankfully, there are plenty of places to walk your dog in Aberdeen. Whether you live in Aberdeen or are passing through the area, take the time to pull over and let your furry friend burn some energy on one of the many scenic dog friendly trails in Aberdeen. Check out this list of where to walk your dog in Aberdeen.
Lake Swano Trail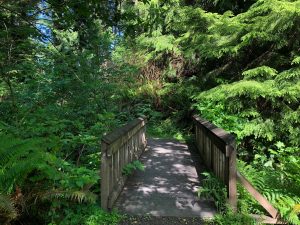 Located on the campus of Grays Harbor College, Lake Swano Trails are great for dogs and humans alike. This easy, scenic one-mile loop wraps around the tranquil lake and through a magnificent second-growth forest. This trail is also a starting point to other trails through the forest, including the Coastal Forest Trail, Poggie Trail, Nice Creek Trail, and Alder Creek Trail. Park at the far end of the campus's lower lot near the Bishop Center for the Performing Arts.
Sam Benn Memorial Park
Sam Benn Park is a dog-friendly park in Aberdeen nestled in a quaint residential area. The park is made up of 14-acres of land that's plenty big enough for your dog to explore as well as a peaceful place for you to unwind. Sam Benn Park is also great for you to participate in outdoor activities while letting your dog relax in the great outdoors. Play a round of tennis on the recently renovated courts before playing fetch or play a round of disc golf on the well-maintained onsite course.
Morrison Riverfront Park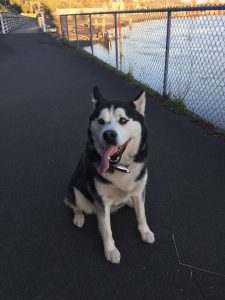 This 11-acre complex is one of the only riverfront parks in the area and offers incredible views of the city and Chehalis River Bridge. The paved trail at Morrison Riverfront Park is a great option to take your dog for a leisurely walk without any incline or much difficulty. Located on the banks of the mighty Chehalis River, you'll be greeted to the park by a magnificent bronze sculpture and the Rotary Log Pavilion. Morrison Riverfront Park is dog friendly and is easily accessible for guests staying overnight at the nearby Best Western Plus or tourists passing through town looking to stretch their legs.
Lake Aberdeen
Lake Aberdeen is dog friendly and is a great place to take your pooch on a warm summer's day. Access to the water is just steps from the parking area, which is great for puppies or older dogs who are eager to swim but unable to walk far distances. While letting your dog splash and play, take in the beautiful 640 acres of surrounding timber, cast a line, or swim alongside your dog in the crystal-clear waters. For dogs who like to take to the water without getting wet, launch a kayak or canoe and paddle around the perimeter of the lake.
Stewart Memorial Park
Stewart Park is dog friendly and is an expansive area of Aberdeen located on the northern outskirts of the city limits. Make your way there by heading down B Street where the road turns into Wishkah Road. Having been designated to be left in its natural form, this park feels as if you've stepped back in time as the towering trees create a canopy above. A stream runs through the trail creating a built-in drinking fountain and spot for dogs to cool off after their one-mile walk.
Johns River Wildlife Area
The Johns River Wildlife Area covers more than 6,700 acres of land off of Highway 105. This wildlife area, one of the largest in Aberdeen, is a perfect pitstop to or from a day at the beach. A Discover Pass is required at the two hiking trails, River Dike Trail and Cemetery Trail. The Johns River Dike Trail is dog friendly and is an easy, paved trail just over a mile round trip. This is another excellent option for a quick journey through the wilderness for you and your dog. This trail is just off of Highway 105 and Game Farm Road.
The second option at the Johns River Wildlife Area is Cemetery Trail. Cemetery Trail is dog friendly, but is best reserved for dogs with more energy as it totals in at four miles round trip and features multiple incline points. What's extra special about this trail is that it's lesser known to both locals and tourists as an undeveloped parking area serves as its trailhead. Keep your dog on a leash once you make your way to the historic cemetery to appreciate the historic relevance of the headstones dating back as far as 1880.
Basich Trail
Known by locals as the Cosi Trail, Basich Trail is dog friendly and connects the southside of Aberdeen to the neighboring town of Cosmopolis. If you are looking for place to walk your dog in Aberdeen that are relaxing, this is a great choice. The paved trail follows along the old railroad route and meanders through the thick vegetation at just over three miles round trip. Park at either the Cosmopolis Lions Club and let your dog play in the large open nearby grass, or park at Pioneer Park Sports Complex and enjoy a baseball game to end the outing.
Sponsored