Since Summit Pacific Medical Center's grand opening in 2013, their mission has always been to assist Grays Harbor County in becoming the healthiest community in the nation. As the years have progressed, many expansions and additions have been implemented to support this mission, one of those being the Wellness Center.
The 60,000-square-foot, $33 million project was created with a vision in mind to be the hub for health and wellness in the community. Boasting three floors dedicated to preventive medicine, the space offers programs and amenities for children and adults of all ages, with new ones being added on a regular basis. "We have been very appreciative of all of the community support and interaction that we've seen since the day the Wellness Center opened," states Blake Rose, director of ancillary services at Summit Pacific. Here is a sampling of what the Summit Pacific Wellness Center has to offer.
Indoor Rock Climbing Wall
Open to anyone and everyone, the Wellness Center's indoor, two-story rock climbing wall is a challenging yet immensely rewarding activity. Anyone over five-years-old and weighing more than 30 pounds is encouraged to try out the large climbing wall. "Participants up to 70 years of age have already tried out the wall and had a blast while accomplishing an activity that they may have thought impossible," states Cindy Beck, community programs coordinator at Summit Pacific.
The climbing wall has an instructor onsite to lend a helping hand. The rock wall can also be rented out for events at other times with prior notice, making for a fantastic and active birthday party or group team-building gathering.
Yoga Classes 
Taking part in the practice of yoga is not only beneficial for the body, but also for the mind and soul. Leah Walldroff, the Wellness Center's certified yoga instructor, guides participants through breathing exercises, alignment and modifications if need be. The classes are open to the public. Please bring your own mat and reach out to leah.walldroff@gmail.com with any questions.
SAIL Classes
Free for those over 65, the SAIL (Stay Active & Independent for Life) Classes offered at the Wellness Center assist participants in building their strength to avoid accidents from occurring that can negatively impact their lives.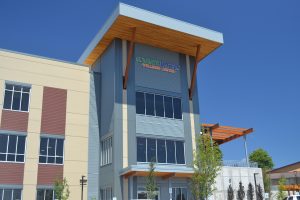 The curriculum is evidence based and focuses on improving balance, strength and coordination. "Falls are a huge risk for an aging person," states Rose. "If an individual falls and suffers an injury like a hip fracture, it can be life changing, and they may not be able to ever fully recover."
These free classes have no age limit; one participant was 96-years young! "We're always excited to welcome new members to the group and help them live their life to the fullest," says Beck.
"We absolutely love SAIL Classes," exclaim Jean and Nancy, two regular participants in the program. "The difference that it's made is amazing. Our balance has greatly improved, especially when walking up and down the stairs."
Cancer Support Groups
Are you looking to meet other individuals who have been impacted by cancer? If so, then the Wellness Center has a program designed for you. These classes bring together a small group of survivors, caregivers and people who are currently battling cancer as well as their family and friends. The groups are led by cancer survivor who is available to talk out emotions that individuals are feeling in a supportive environment. Learn strategies and tactics for living with cancer and breaking free of the feeling of isolation.
Dementia Caregiver Support Groups
Summit Pacific's Dementia Caregiver Support Groups act as a safe place for unpaid family caregivers and their family and friends to exchange information on caregiving problems and solutions. Nurse care coordinators lead the groups and talk through the many challenges and ways of coping with the disease.
Diabetic Support Groups 
The Diabetic Support Groups are peer led and bring together individuals affected by diabetes. While sharing personal experiences, group members will learn from one another, becoming more educated about diabetes management.
Playground/Splash Pad
Summit Pacific's playground and splash pad are open to the public. Bring the kids on a warm summer's day followed by a walk on the nearby fitness trail. Once inside the Wellness Center, children are encouraged to explore the multiple interactive play areas that can make a not-so-exciting trip to the doctor's office a fun outing.
Nutrition/Dietary Services
Although this is a clinical service and a doctor's referral is necessary, access to the dietician is available to both children and adults. Located in the Wellness Center's gym, a typical session includes a one-on-one visit to review dietary habits as well as a discussion regarding exercise and lifestyle choices.
Another healthy offering at the Wellness Center is the Café @ Summit where obtaining a fresh and nutritious meal can be achieved for an average of just $6. Choose from one of the many healthy lunch options to enjoy at the facility or take on the go. The Café @ Summit is located on the second floor of the Wellness Center.
Host Your Own Event
In addition to the many programs offered at the Wellness Center, there are opportunities to use the space in a more professional manner. Multiple rooms can be rented on an hourly or daily basis. These include a large conference room and boardroom, as well as smaller education style rooms. Catering can also be provided to make your event as streamlined as possible.
"Everything that we do stems from our goal of thinking differently about healthcare," explains Rose. "We sincerely hope that we can help people make different lifestyle choices and change the way that they live in a positive direction."
For the most up to date information including class dates, times and costs at both Summit Pacific's Medical and Wellness Center, like them on Facebook or visit their online calendar. Flyers can also be found in the buildings. For specific questions regarding the Wellness Center's programs, feel free to contact Cindy Beck for more information at Cynthia.Beck@sp-mc.org.
Sponsored