In every corner of Grays Harbor, a unique tale of history can be found. From presidential visits and logging, to the Wild Man of the Wynoochee and Billy Ghoul, there is always an awesome story to be told. On an unassuming street in Montesano, we find just such an anecdote of our region's importance, this time in the form


of William Henry "Willie" Bush. From possibly being the youngest Union soldier in the Civil War, to meeting President Lincoln, to helping out in the town of Montesano in the early years, Willie Bush should be a household name for Grays Harbor residents.
Born in Indiana on September 21, 1857, William was the first born for Dr. Asahel Kidder Bush and Eliza A. Congdon. On April 16, 1861, when little Willie wasn't quite four years old, Asahel enlisted with the Union after reading about the battle of Fort Sumter. After an illness, Asahel was transferred to the Veteran's Reserve Corps, a unit designed to place disabled soldiers in noncombatant role. It was then, in 1864, that Willie Bush's story truly started.
With this transfer, Asahel requested that he be allowed to bring his son with him to serve as a valet. During the Civil War, hundreds of boys under the age of 12 were said to have worn the Union uniform. It is believed that Willie was the youngest child soldier to wear a uniform during the Civil War. Even more remarkable is that during his time as a child soldier, he met with President Abraham Lincoln. However, the meeting is debated as to when and how it actually happened, as the Washington History organization shared.
Civil War historian Jay Hoar reports the following: "Father and son in a party of White House visitors were scheduled for a brief walk-by and greeting from the president. The affair came off almost magically. 'Uncle Abe' beamed way down to the boy, each extending a hand, and inquired, 'Your name, Son?' 'Willie!' exclaimed the six-year-old, not realizing that this giant commander-in-chief had lost a son named Willie [on February 20, 1862]. The boy's tragic death had plunged the First Family into deep grief. The Great One swallowed hard and, stooping, conferred upon the surprised youth a hug…"
However, in 1999, the Montesano Vidette told a different story during their profile on local legend William Henry "Willie" Bush: "When he was about eight years old, William and other boys were playing soldiers in a vacant lot near the White House. During this time, they would frequently see president Abraham Lincoln out for a walk. The boys would always stop what they were doing and salute the president. One day, one of the boys cried, 'Here comes the President!' They all stood and saluted him. He returned the salute and then asked, 'Are you boys going to be soldiers when you grow up?' 'Yes,' they replied. 'Well,' said Mr. Lincoln, 'It's to be regretted that we have to be soldiers at all. I hope you'll never be called upon to fight.' Then he walked away."
Whatever truly happened, we will never know, which only adds to Willie's legacy.
In 1867, the Bush family moved to Fort Stevens, Oregon. Asahel resigned from the military in 1869 and the family moved up to what is now Willapa Bay. In 1883, now in his twenties, Willie Bush relocated to Montesano. Here, he worked for the newspaper, then served as the first postmaster for the city from 1883 to 1885. After marrying Anna Phelon, who was also originally from Indiana, the new family had their first son in 1886. This would be a big year for the new Bush family, as it would be the same year that Willie was appointed as a deputy sheriff in January. In July of 1886, he helped to organize Montesano's first fire department and in November, he was elected as county sheriff.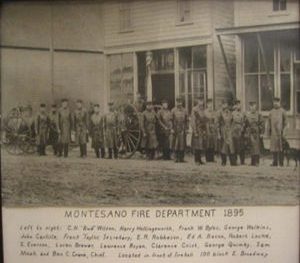 Well-respected and hardworking, Willie's stock continued to rise in the community – he became mayor of Montesano in 1892, he won the election 132-68. After serving his term, he engaged in numerous other businesses around the community before diving back into politics, one last time. In 1922, at 65-years-old, he ran for mayor again, winning 274-24.
On October 28, 1938, William Henry "Willie" Bush passed away, a loss felt by the entire community. Buried at the Wynoochee Cemetery in Montesano, just a few blocks from the house where his raised his family and served the community. His home, located at 231 North River Street, is adorned with a plaque and is in excellent shape, holding on to the spirit and style of where he lived.
While today, few speak of local legend Willie Bush, his legacy lives on. Next time you are in Montesano, drive by this house, stop by the cemetery and take a look at part of both Montesano's and America's interesting history. You never know what other amazing story you'll discover.