When sweater-weather rolls around, it's easy to fall into the annual hibernation mindset. We drag ourselves to work and school then straight home to veg in front of TV or computer, wrapped in a blanket and munching on snacks. But staying active year-round is vital for body, mind and emotions. Thanks to the caring souls at Summit Pacific Medical Center, there's always something fun going on.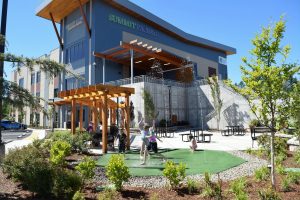 Health and lifestyle gurus warn that "as the dreary days of winter drag on, we often find ourselves staying home or drastically limiting outdoor activities causing feelings of seclusion…A lack of physical activity and social engagement can take a serious toll on your wellbeing. Believe it or not, depression, high blood pressure, diabetes, and decreased bone density are all impacted by your activity level! If your social calendar isn't filling up, then NOW is the time to think outside the box and take the time to focus on making your life the very best it can be."
Summit Pacific offers a jam-packed event calendar of classes, community education, support groups and celebrations that are open to everyone. In October alone, there are yoga classes, indoor rock-climbing days, illness and caregiver support groups and blood drives. There are also community-wide festivities so you can spend time with friends and neighbors. The Peak Health Wellness Fair and 5K takes place on Saturday, October 12, and Ladies' Night Out is on Thursday, October 24.
"My favorite part about all of these is that because of our incredible sponsors, volunteers and donors, we are able to offer them 100 percent free to the participants," says Natalie Jensen, events coordinator. "We could never do these community events without their continued support."
"Both Ladies Night Out and the Wellness Fair are free educational opportunities that are open to the public," she continues. "Both are designed to help empower participants to learn more about how to live their healthiest life. Knowledge is power and knowing there is a community of individuals who want to see you succeed is more valuable than we can measure."
Peak Health Wellness Fair
This is the first year the Wellness Fair has been hosted entirely at Summit Pacific's Elma campus. Staff are excited to show off their new building, which opened its doors in January 2019. Their comprehensive commitment to the Grays Harbor region was recognized in May 2019 when they were awarded the USDA Rural Development Award of Excellence.
During the Wellness Fair, explore vendors and get a free massage, eye exam, hearing test or flu shot. For kids, there's a fire truck and ambulance to explore with prizes and swag galore. "It's an opportunity to invite the community to participate in their own health journey, wherever they are at in that journey," says Jensen. "The Wellness Fair is great for bringing together the community with resources they might not have been aware were available to them. The 5K is fun because you can be at any fitness level and benefit. It's an opportunity for someone who maybe has never participated in an organized race to get their feet wet with a free race. There is something exciting about participating in a large group exercise event that makes the workout more fun."
The Fair runs from 10:00 a.m. until 2:00 p.m. on October 12. Come pick up your passport to explore all three floors of the new building and sign up—or better yet share—on the event's Facebook page for details, additions, and information. Check-in for the 5K starts at 8:30 a.m. and the first 100 registrants will receive a free t-shirt. For specifics and registration, follow them on Facebook as well.
Ladies' Night Out
Then clear your calendar for Ladies' Night Out later in the month. "Ladies' Night Out is such a fun event where we get to pamper our guests and talk about health issues that matter most to them," says Jensen. "It's a fun, safe space to ask health and wellness related questions, have a lovely dinner and take home some fun swag! I love the different topics we get to learn about, for instance, last year we discussed bladder health and function, hormones and more. This year we are looking at bringing some new topics again so it will be another engaging evening."
Tickets for Ladies' Night Out can be reserved online starting Tuesday, September 24. They're free, but only available through online registration. Seating is limited so sign up right away. Share details with your gal pals through Facebook or Eventbrite. Contact Natalie Jensen directly with questions about these, or any, events. She can be reached at 360-346-2345 or Natalie.Jensen@sp-mc.org.
Autumn is gorgeous in the Pacific Northwest, despite the dusky damp weather. So, dust off your favorite boots and signature cardigan and get moving. It's easy, with a little help from Summit Pacific.
Sponsored