Plato said, "He was a wise man who invented beer." While Plato never visited Grays Harbor, we agree that there is nothing quite like gathering for beer with friends after work or while watching a game. Here in Hoquiam, where the salt water of the Pacific meets the runoff from the region's mountains and glaciers, we have a great selection of places to grab a beer and visit with our friends and neighbors. Like the town itself, you'll find a wide array of pubs, bars, taverns and places to drink, each giving you a chance to get to know Hoquiam a little better. Whether you wish to visit a brewery or hang out at a local pub, our town along the Harbor is the perfect place to wet your whistle. If you are looking, here is where to get a beer in Hoquiam.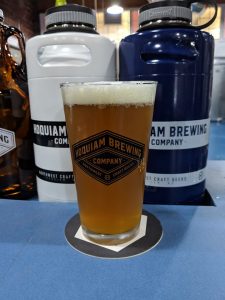 Hoquiam Brewing Company
526 8th Street, Hoquiam
360-637-8252
Opened in 2017, the Hoquiam Brewing Company is the only brewery currently operating in Hoquiam city limits and is a can't miss stop for anyone who enjoys beer. Here, you'll find perfectly brewed beers for all palates, a brewery tour from the comfort of your bar stool, and even occasional live entertainment. This is Hoquiam's classic brewery, bringing a rotating selection of unique and rich brews all year long. Hoquiam Brewing also serves food, ensuring that a stop here will get you full of good beer, good grub and good company.
Ace of Clubs
2603 Simpson Avenue, Hoquiam
360-532-9759
If a classic dive bar is what you are hoping for, you can't go wrong with the Ace of Clubs. Here, you'll be mixing with locals and enjoying great beers while taking in the sights and sounds of this iconic tavern. The Ace of Clubs is known for their friendly service, lively atmosphere, and good selection of drinks. This is authentic Hoquiam at its best and is always worth a stop when you are in the mood for a tavern experience. The Ace of Clubs is also known for great live entertainment, so make sure you check the line-up on the Ace of Clubs Facebook page.
8th Street Ale House
207 8th Street, Hoquiam
360-612-3455
Advertised as a "cozy, low-key gastro-pub," the 8th Street Ale House is another must-stop spot in Hoquiam. It boosts a great selection of craft brews to choose from as well as standard American pub fare. Since it is Grays Harbor, you can snack on a pound of steamed clams while sipping on the drink of your choice. An added feature of the 8th Street Ale House is that during the nicer weather days, you can sit outside and enjoy their patio. Few places in town offer outside seating, so on sunny days, head here!
Welcome Inn Bar and Grill
520 23rd Street, Hoquiam
360-533-5060
The Welcome Inn Bar and Grill is another Hoquiam classic stop, sure to give you great beer and a memorable experience for Hoquiam locals and tourists alike. The inside is cozy and compact, but large enough to have private conversations if desired. The bar and grill serve up delicious foods and a great selection of beers from which to choose. With an outside patio/beer garden that is fenced off from the rest of town, stopping by the Welcome Inn on a sunny day or warm night is a guaranteed good time.
Foggy's Bar and Grill
320 Myrtle Street, Hoquiam
360-612-3623
While the outside of Foggy's Bar and Grill in Hoquiam may look nondescript as you pass through town, this is another classic, local spot to enjoy a beer. Friendly staff and conversational locals help make this place energetic, while the pool table and darts give you something to do when it is a slower. The beer selection here is great, and the food is perfect bar food, helping to make Foggy's a favorite for both locals and those passing through. A stop at Foggy's will give you a good bar experience in town and show the friendliness and fun that is found in Hoquiam. If you are searching for a small bar with lots of character, don't skip Foggy's.
The Place To Be
710 J Street, Hoquiam
360-612-3062
The name says it all: this is The Place to Be. Known for great drinks, a beer garden, live music, karaoke, trivia, and a pool table, The Place to Be in Hoquiam is a great stop for all. Here, you'll find friendly staff helping you navigate their drink options, all just a block from the Hoquiam River. The Place to Be is energetic in the evenings, while being nice and relaxed during the day, giving patrons of all walks of life a chance to enjoy a good drink in a nice establishment.
Sponsored