At the start of the high school football season, Elma was looking to replace a significant amount of offensive productivity due to the graduation of Taitum Brumfield, last year's 1A Evergreen League offensive MVP.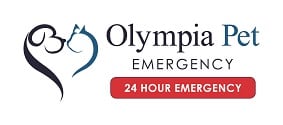 Enter Brady Shriver, a first-team all-league running back in his own right.
"Once Taitum left, coach told me he was going to use me all over the field," Shriver said. "I took it as a challenge. I just want to do my best and help this team win no matter what they need me to do."
Through the first three non-league games it appears the Eagles, who have put up a combined 123 points this season, got exactly what they needed in a playmaker.
Elma head coach Ron Clark has fulfilled his pre-season promise to Shriver, using the senior in a variety of positions on offense. And once the ball is in Shriver's capable hands, positive things usually happen.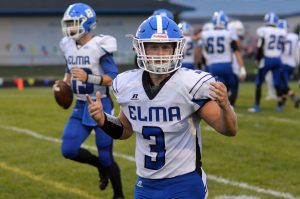 "It was a big step because Taitum was a great running back," Shriver said. "I always looked up to him. I was always following his lead. That's where I got a lot of my intensity by watching him play."
Brumfield and Shriver formed a formidable 1-2 backfield punch last year as the Eagles snapped a 13-year state playoff drought.
While Brumfield was a bruiser with speed and listed at 5-foot-10, 205 pounds, Shriver comes in at 5-7, 160. There haven't been too many times since he first started playing the game where he wasn't one of – if not the – smallest player on the field.
However, whatever he lacks in size, he more than makes up for in enthusiasm, hustle and leadership. Small in stature, sure, but Shriver is always there to make a big impact on the game.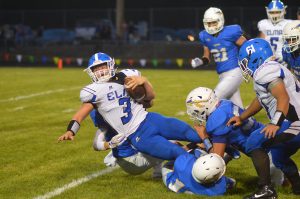 "I've always been one of the smallest players," Shriver said. "I'm going to make up for it by being the hardest worker out there and do whatever it takes to get that W."
Shriver said he learned how to "play angry" from former teammate Brumfield, never shying away from contact and always falling forward when he's carrying the football.
"He was just an animal. He was never one to talk, but always had this energy," Shriver said about Brumfield. "He was full power, full throttle every play. That's how I want to play. If I'm running with the ball and I'm going to get hit, I'm going to hit them with a full head of steam as hard as I can."
While Shriver has the physicality and aggressiveness down, the one thing he does stumble a bit with, admittingly, is the angry part because how can someone be mad when they're out there having so much fun?
"You want to be a hard-nosed football player. You want to be tough and gritty," Shriver said. "It's tough though because I just love this game so much. I just love playing with my friends. We're one big family. I've been about Elma football since day one."
Prior to putting on the Eagles jersey, Shriver was a long-time ball boy for the program, eagerly showing up every Friday night to be even a small part of the team.
"I remember always having fun when I was out there," Shriver said. "Wearing my Eagles jersey and making jukes when I ran across the field after getting the football."
Now, Shriver, who also starts at cornerback, is doing it for real for the last time.
"One of the biggest things for me is I want the younger guys to see how special it is playing here," Shriver said. "I want the older players to show them how it works, show them what it takes to be an Elma football player because this program really is special."
The Eagles were a mainstay in the Class 2A state tournament between 1997 and 2005, making nine consecutive state playoff appearances while winning titles in 1997 and 2001 and finishing second in 1998 and 2002.
Elma, which defeated King's Way Christian (34-8) and Rochester (63-14) to open the season, made a return trip to state in 2018, losing to Meridian, 40-21, in the first round. The Eagles begin league play on October 11 at defending Evergreen champion Hoquiam.
"All I want to do is be with my guys and play as hard as we can together and play as long as we can together," Shriver said. "I've been playing with my best friends since grade school. I love my boys. I love this team."