Submitted by Brooklet Toys
Brooklets Toys in Seabrook wants to help you with your holiday shopping list this year! Shop curator and toy expert, Lindsi Fry, has done her research and is ready to share with you her top picks for the 2019 Holiday Season! These toys are guaranteed to spark imagination and joy and can be found at her shop, located on Market Street and open seven days a week. They even offer free gift wrapping!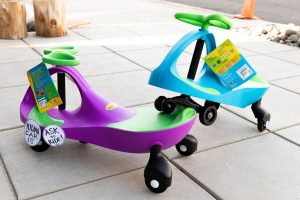 #1- Plasma Car
Take a ride on the Plasma Car and be transported to another world — no license required! Simply prop your feet up and give the wheel a twist to propel the car forward (or backward!) and navigate around the neighborhood (or the kitchen!) experiencing it all from a new perspective. With a weight limit of 200 pounds, the Plasma Car is sure to delight kids of ALL ages!
#2 – Speks
If your hands love to fidget or build intricate creations… then you've gotta get your hands on a set of Speks! This colorful group of 512 tiny magnets can be smooshed, separated, and pieced together in a myriad of ways — follow written and video tutorials, or create your own unique designs.
#3 – Mermaid Tails
Make dreams of becoming a REAL mermaid come true with a SunTails mermaid tail! Mermaid tails are made from the softest swimsuit material and come in many different colors to fit your unique mermaid style. Strong swimmers can choose to slip their feet into a hard Monofin to add definition to their tail and propel them through the water with ease! Complete the ensemble with a matching bikini and some fabulous goggles from Bling2o. And if you prefer something with a little more BITE, strap on a shark fin and give fellow swimmers a good scare!
#4 – Jellycat Octopus
Jellycat never ceases to amaze with their creative and cuddly stuffie designs! It might be impossible to choose your favorite… but may we suggest Storm the octopus as a strong contender? When you need a hug, there's probably no better stuffie than one with 8 squiggly arms! Storm the octopus comes in 4 sizes… from ginormous to itty bitty! Jellycat has thought of everything, designing the smallest octopus with threaded eyes to be safe for baby… and tentacles that are oh so easy to grip! And of course they all come with the sweetest smiles. 🙂
#5 – Shopping Cart
Yes, it's so much fun to push a tiny shopping cart around Brooklets Toys… but did you know you can take one home with you? This lightweight cart comes in a nice box (perfect for that BIG exciting present under the tree that they can't wait to unwrap!) and assembly is a breeze! Just unfold, push it around and fill it up! Pro Tip: a tiny shopping cart makes "clean-up time" much, much more fun. 😉
#6 – Pop! Pop! Piano
The Pop! Pop! Piano by Mirari is fun for teeny tiny tots as well as bigger kids who like a good challenge! Each strike of a key sends a pastel star flying from the corresponding pipe… as well as playing a pretty piano note or a silly sound (depending on the chosen setting). Play music, watch the stars fly, and as coordination develops… try and land the stars in their matching colored pipe!
#7 – Lollipopter 
The Lollipopter is more than just a toy… it's an EXPERIENCE. Delight your sense of sight, sound, and touch — all at once! Spin the Lollipopter one way and then the other, as it clicks into place in a manner that can only be described as… super satisfying. Every desk — whether used for work or homework — needs a Lollipopter. Take a break for fun's sake!