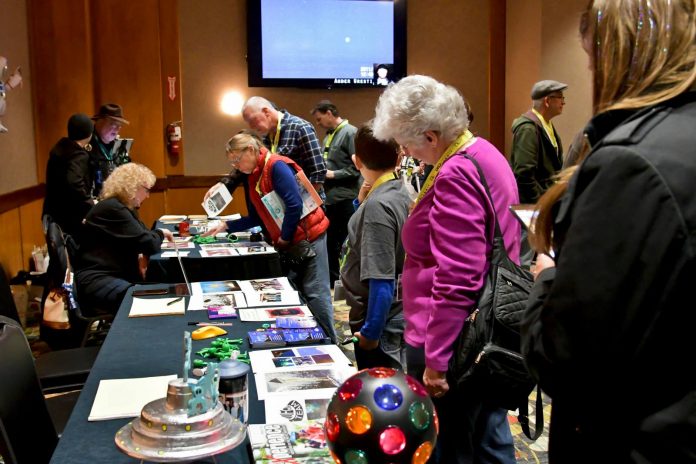 If you have a penchant for things unusual, or are just looking for a diversion from the everyday morass of current events, head to the UFO/Paranormal Summit at the Quinault Beach Resort and Casino March 6-8, 2020. The Pacific Northwest, in particular, is a region rife with paranormal sightings and rich local legend, making it the perfect location for this out-of-this-world event.
The UFO/Paranormal Summit features some of the most prominent and renowned speakers and researchers involved in the study of UFOs and other related fields. Each speaker presents perspectives, information and evidence that will be of interest to all enthusiasts and skeptics alike.
The speakers that will be featured at the 2020 UFO/Paranormal Summit include:
Nick Pope. Nick Pope regularly contributes to a myriad television shows and documentaries, including "Ancient Aliens." He worked for the U.K.'s Ministry of Defense, investigating UFOs and other mysterious phenomena in an official capacity.
David Paulides. David Paulides is a former police detective. He has now dedicated himself to investigating and understanding the dynamics involved in searching, rescuing and investigating missing people in wilderness areas throughout the world. He has authored books pertaining to Bigfoot, as well as the Missing 411 series, in which he details disappearances of people in national parks and elsewhere.
Maurene Morgan. Maurene Morgan is a section director of the Washington State Mutual UFO Network (MUFON). She facilitates the Olympic UFO Meet Up, a monthly Port Townsend gathering that explores unusual phenomena. She also hosts a discussion group for people who believe they have experienced extraterrestrial events first hand. Maurene has investigated a multitude of reports on UFOs and other unusual occurrences.
Darrel Sims. Darrel Sims, also known as The Alien Hunter, is a leading expert on alien abductions. He has more than 38 years of research in the field, with a focus on relevant physical evidence. He is a former military police officer, former CIA operative, and a therapist and Certified Master Hypnotherapist. This lends him a unique perspective and enables him to assist people who believe they have experienced alien encounters.
The UFO ITeam. The UFO ITeam are a team of researchers who are interested in, and have, in some cases, experienced, unusual phenomena. They dedicate themselves to interviewing and researching people with similar experiential backgrounds. They also engage communities via town hall meetings and private interviews, thereby encouraging people to share their own unique stories.
Clifford Mahooty. Clifford Mahooty is a Zuni Pueblo Indian elder. He is a member of the tribal orders of the Kachina Priesthood, the Galaxy Medicine Society, the Sun Clan, and wisdom keeper of the Zuni history and their spiritual practices. He is a retired civil/environmental engineer, and has worked for Shell Oil Company as well as various United States government housing programs. Mahooty has coordinated with various federal and state government agencies in the effort to protect Native American sacred sites and lands against desecration, pollution, theft, and other encroachments.
There will be at least one additional guest speaker, yet to be announced.
The majority of the UFO/Paranormal Summit will be taking place in the Great Hall at the Quinault Beach Resort and Casino. You aren't going to want to miss three days of exciting testimonies & research. For schedule, log onto www.ufosummit.com.
In addition to all the speakers and workshops that will be there to captivate you over the course of the weekend, vendors will be present as well. They will be selling merchandise specifically related to UFOs and the paranormal.
Tickets are available online, and they are limited. Admission for Friday and Saturday is just $45. Admission for the UFO Workshops on Sunday, March 8, which includes passes for Friday and Saturday, as well as a UFO Summit T-shirt, is just $100. Service fees are applicable for online orders.
The Quinault Beach Resort and Casino also offers packages for those who would like to make a getaway weekend of the event. For event site lodging, a two-day package is available for $349. Sweet Grass Hotel in Ocean Shores also offers a two-day package, with free shuttle transport, for $249.
Quinault Beach Resort and Casino is located at 78 St Route 115, Ocean Shores.
Sponsored