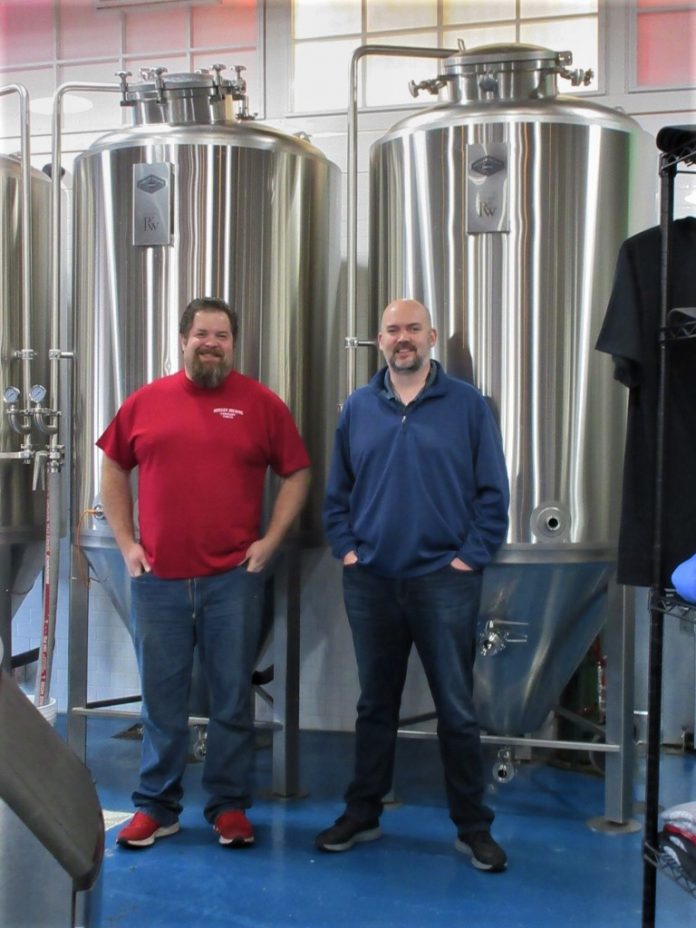 The historic building on 526 8th Street in downtown Hoquiam has undergone an amazing transformation. It has become home to the Hoquiam Brewing Company, the city's first-ever brewery. In the classy new interior, you can sample a selection of excellent Northwest craft beers right next to the gleaming stainless steel vats they are brewed in. Enjoy out-of-this-world pizza, sandwiches, soups and salads in beautiful surroundings steeped in Harbor history.
Aberdeen native Rob Paylor is a graduate of the Culinary Institute of America in Portland. Having advanced to the position of restaurant manager for Bill Gibbons of Galway Bay and 8th Street Ale House, Paylor purchased the Mill 109 restaurant in Seabrook with his friend Patrick Durney as partner. The Paylor and Durney families had known each other for a long time. Paylor and Durney's dads met at high school.
While operating Mill 109, the friends were discussing ideas for the future. Plans for a brewery were fermenting. They were looking for a historical building with good structural elements, when the City of Hoquiam decided to sell 526 8th Street. "It had solid concrete walls and huge timbers supporting the roof, but they had been covered with new stuff, what we call goo," Paylor remembers.
The building needed a major remodel including a new roof. Sandblasting by Twin Harbor Media Blasting exposed the beautiful wooden beams and the walls. New electrical and plumbing was installed by Jones Electrical and Kilwien Construction. The owners provided lots of sweat equity, which included Rob setting a grinding wheel to the concrete walls and coating them with a clear sealant to satisfy health department requirements. Then Greg McHugh from McHugh's Furniture came in with his interior design expertise and helped Paylor and Durney to create a space where rough Hoquiam character meets sophisticated decor. There is a lot of storytelling texture in the grays of the raw concrete walls with their bricked-up windows and patched-up cracks.
The shades of gray are repeated in the bar furniture Paylor constructed from beautiful wood salvaged from the old Aloha Saw Mill. The grays are offset by the bright blue floor and the burnt orange paint on the front wall and in the hallway to the kitchen. Paylor loves history. He decorated the walls with artifacts from the Aloha Saw Mill and its train tracks and he loves to talk about them. "They make great conversation pieces," he says.
The gleaming brewing equipment is a major asset of the pub's interior design along with the beautifully printed sacks of grain shelved neatly on a rack. The would-be brewers had found their equipment at Portland Kettle Works even before they had found a home for it. "We love our stainless steel," Durney grins. "I'm glorified janitor on brewing days when the grain mill blows dust on all the stainless steel surfaces." There is no doubt about the cleanliness of the brewing process here. It is all in the eye of the public.
While working in his family's business Durney Insurance, during the day, Patrick Durney immersed himself in the science of brewing. Prior to the Hoquiam Brewing Company, the owners' expertise had been on the consumer side only. They watched many YouTube videos, visited many breweries and experimented. The partners hired a consultant to speed up their learning process. Styles of beer derive from different grains and yeasts, which produce different tastes and colors. The yeast sinks to the bottom during fermentation. All Hoquiam Brewing Company craft beers are unfiltered retaining their natural state with a complexity of flavor.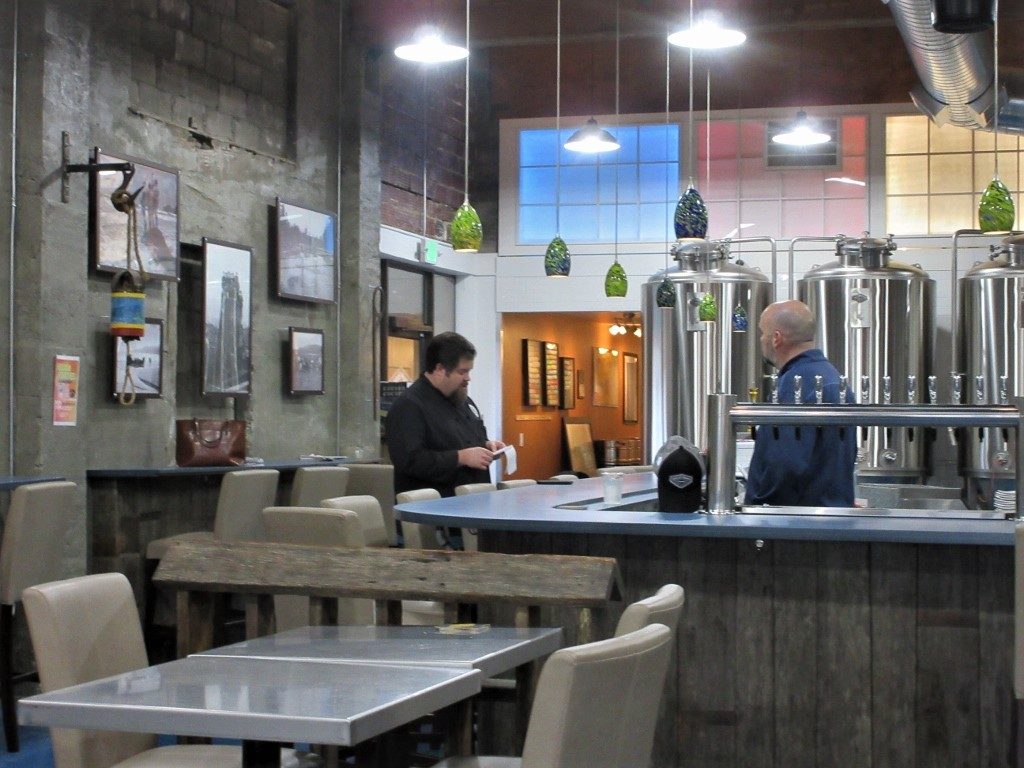 After a year of remodeling, the Hoquiam Brewing company poured its first pints in the fall of 2017. This was a historic event. Amazingly, there had never been a brewery in Hoquiam, only a beer distribution company represented by an old keg displayed in the window. The new brewers began slowly with three styles of beer: Hoquiam IPA, Boots and Shorts Blonde and Captain 12 Milk Stout. Their tap list has been growing ever since including classics like German Pilsner and eccentricities like a vanilla coffee stout.
A simple food menu of pizza and sandwiches was added in 2018. Paylor has seen many restaurants go out of business. "We were going to grow slowly and carefully," he says. Guests at the brewery consume approximately two 124 pint kegs per day. The three 10-barrel fermenters produce an excess of the golden liquid for outside distribution.
In 2018, Drew Grannemann joined the Hoquiam Brewery Company. He started out as bartender and was trained for 6 months before taking over as fulltime brewmaster.
The food menu has expanded to include gluten-free, cauliflower and broccoli crust, more sandwich options as well as soups and salads. Vegetarian pizza and sandwiches are also available. The Hoquiam Brewing Company has a family dining area and a bar area where wine is served.
Visit the Hoquiam Brewing Company website and their Facebook for an up-to-date tap list, menu, opening hours and entertainment. Contact 360-637-8252 or beerme@hoquiambrews.com for more information.